This is an archive page !!!
---
Time Warner Quick Reads Business Library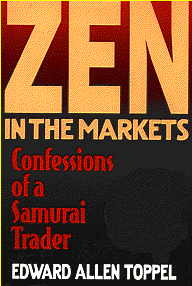 Zen in the Markets: Confessions of a Samurai Trader
By Edward Allen Toppel
Like the lessons of Zen, the lessons in this book are brief, simple, and profound. They are intended as much for the person who glances at the financial pages in the evening to see how his or her investments are faring as for the full-time trader or professional money manager. Their underlying message is that you are in a contest with yourself and not the market. Just as the lack of sense of self makes the samurai warrior a powerful and formidable opponent, it can make you successful in stock trading. You will lose less. You will make more profits. It is simple.
To be a superior trader is to be a warrior
The greatest warrior is one who conquers himself
Let the market make the decisions, not your ego
---
How to Purchase Time Warner Quick Reads
Purchase this Time Warner Quick Read: $11.95 ISBN: 1-57304-188-2
---
Internet Links to Zen:
Frequently Asked Questions from alt.zen
What it is, why and how people practice it, a glossary, and an introductory reading list.
Zen Buddhist Texts
Offers a "Random Thoughts Generator", primary Zen texts, texts from the Southwest Zen Academy, and other Buddhist sources.
Zen and the Art of the Internet
A hypertext version of the first edition by Brendan P. Kehoe.
History of Ju jutsu
Transition of the Samurai warrior during peacetime in Japan.
Business Library Internet Links
---
Copyright © 1995 Time Inc. All rights reserved. If you have any comments or suggestions, please e-mail them to twep-webmaster@www.timeinc.com