This is an archive page !!!
---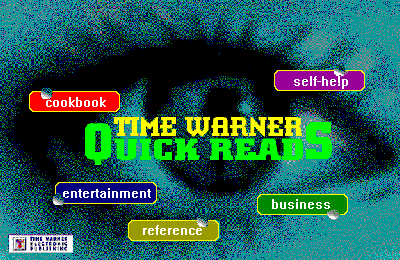 ---
The Quick Reads are Out of Print and no longer available for download and purchase!
---
The Libraries

Business


Cookbooks


Entertainment


Reference


Self-Help
---
Experience Time Warner Quick Reads first hand! This free downloadable sampler gives you a taste of the functionality and convenience provided by the powerful search engine packed under the hood of each one of these Warner and Little, Brown and Company titles. Search sample chapters from Bartlett's Business Quotations, Mr. Boston: Official Bartender's and Party Guide and Martin Zweig's Winning On Wall Street.

Enjoy the sampler, then build a library from our selection of Business, Reference, Cooking, Self-Help and Entertainment titles.

Time Warner Quick Reads, The Fast Find Software!
---
Copyright © 1995 Time Inc. All rights reserved. If you have any comments or suggestions, please e-mail them to twep-webmaster@pathfinder.com