This is an archive page !!!
---
Time Warner Quick Reads Business Library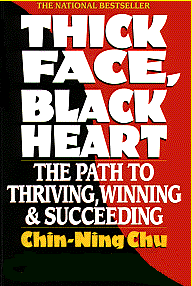 Thick Face, Black Heart:
The Path To Thriving, Winning & Succeeding
By Chin-Ning Chu
From Asia today comes a powerful secret. Yet it's something that all successful business people possess. The world's foremost expert on the Asian business mind, Chin-Ning Chu, has shown audiences around the globe how to liberate this powerful force hidden within us all - and unleash its awesome power. Thick Face, Black Heart shows you how to:
Find your inner warrior, and conquer all in your path
Claim your natural right to dazzling wealth
Realize your hottest passions through the art of cool detachment
Unchain your primitive killer instinct for a life-affirming cause
Apply deception without sin to win the deal you want
Dare to succeed by cultivating the courage to fail
Transform your negative qualities to your advantage
---
How to Purchase Time Warner Quick Reads
Purchase this Time Warner Quick Read: $11.95 ISBN: 1-57304-184-X
---
Internet Links to Warriors:
Book Review
As featured in the China News Digest, March 21, 1993.
Martial Arts
A global index of Internet resources for Aikido, Ju jutsu, Judo, Karate, TaeKwon Do, Iaido, Kendo and Jodo, Fillipino martial arts, Chinese martial arts, and more.
Business Library Internet Links
---
Copyright © 1995 Time Inc. All rights reserved. If you have any comments or suggestions, please e-mail them to twep-webmaster@www.timeinc.com