This is an archive page !!!
---
Time Warner Quick Reads Business Library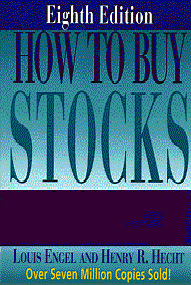 How to Buy Stocks (8th Edition)
By Louis Engel and Henry R. Hecht
For over forty years, generations of investors have turned to HOW TO BUY STOCKS (over 7 million copies sold!) for advice and information they know they can trust. This extensively revised edition preserves the savvy investment principles and easy-to-understand explanations, but now includes all the up-to-the-minute information you need for successful investing in the 1990's. Sophisticated enough to appeal to the seasoned investor, and straight forward enough for those entering the market for the first time, HOW TO BUY STOCKS takes the mystery out of investing while giving you sound advice in making stock-buying decisions.
---
How to Purchase Time Warner Quick Reads
Purchase this Time Warner Quick Read: $11.95 ISBN: 1-57304-242-0
---
Internet Links to Stocks:
Traders Glossary
Wall Street Direct's quick reference to investing & trading definitions and futures & options terminology
Security APL Quote Server
Enter the stock symbol of your interest and get today's quote, look at today's NASDAQ Composite Index chart updated every 15 minutes, or check a variety of Indexes updated every 3 minutes.
Quote.Com
Provides extensive current financial market data free and for a fee, including current quotes, business news, market analysis, fundamental (balance sheet) data, and company profiles.
Today's Holt Report
The daily stock market report, with archives.
Hong Kong Stocks Reports
Analyzed market information of the Hong Kong Stock Exchange.
Business Library Internet Links
---
Copyright © 1995 Time Inc. All rights reserved. If you have any comments or suggestions, please e-mail them to twep-webmaster@www.timeinc.com