This is an archive page !!!
---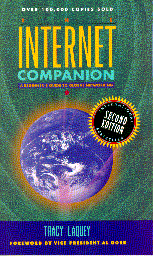 The Internet Companion
A Beginner's Guide to Global Networking (2nd edition)
The OBS is pleased to present our free, "distributive" full-text HTML version of the second edition of this bestselling title, linked to resources around the world. As with all our distributive publications, we invite you to browse, comment, and send in your link suggestions.
We are also pleased to offer paths to a sibling version of the Internet Companion, produced as a class project at the University of North Carolina. This use of online files points the way to a new form of reading and publishing on the Net: true interactivity where the students or readers can affect a book's content by finding, choosing, and implementing links for it.
---

About the Internet Companion


What World Media is Saying About the Internet Companion


About Tracy LaQuey


Copyright


The Internet Companion at the University of North Carolina


Buy this Book

---
Contents

Chapter 1
What Is the Internet and Why Should You Know About It?
Whence It Came
It Keeps Going and Going . . .
The Equalizer
Peeling Back the Layers: Differences between Networks
Convergence: A Traffic Circle on the Information Highway
Mrs. Smith Connects to Washington
Business Use
Backing Out of the Driveway
The Future


Chapter 2
Internet: The Lowdown
A Network of Networks
In the Beginning
How Computers Talk
Who Runs the Internet?
Acceptable Use
Internet Concepts


Chapter 3
Communicating with People
All (Or Almost All) About Electronic Mail
Conferencing: Group Speak
Interactive Discussions
Netiquette, Ethics, and Digital Tricks of the Trade

Using Online Resources and Services
Accessing Interactive Services
Online Resources
Transferring Information
Finding Resources and Files


Chapter 5
Internet in-the-Know Guide
Legends on the Internet
Games
Security Issues
Internet Organizations
Help! Getting More Information
Finding Email Addresses: The Sequel


Chapter 6
Unix on the Internet: A Survival Guide

Logging In
Getting Help
The Unix File System
Electronic Mail
Reading USENET News

Easy Street
All You Need to Get Started Dialing into the Internet
Types of Connections
Choosing an Individual Access Provider
Connecting Your Business or Organization

Appendix -- fully-linked version at the University of North Carolina


Copyright © 1994 by Tracy LaQuey and Editorial Inc.

---
[ OBS - Home | OBS - The Bookshelves | The Internet Companion ]