This is an archive page !!!
---
Aloud! Voices from the Nuyorican Poets Cafe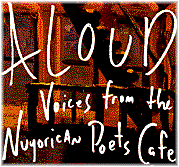 ---
From New York to Nashville, Boston to L.A., a bohemian rhapsody of rap swagger is spreading across the land. As the New York Observer writes: "The poetry corpse is stirring, its beating heart is a big, dark, brick-walled loft on Third Street and Avenue C called the Nuyorican Poets Cafe. It's democratic, multicultural . . . sometimes funny, sometimes ribald. It has the vitality of vulgarity..."
So welcome to the inside of the explosion."We are," as Bob Holman, declaims, "at the house for the tradition that has no home but your ear."
Miguel Algarín, one of the Cafe's founders, knows there's an urgency among us "We must listen to one another. We must respect one another's habits. And we must share the truth and integrity that the voice of the poet so generously provides."
So here they are-- everyone from founding poets Miguel Piñero, Ntozake Shange, and Piri Thomas to Maggie Estep, Nicole Breedlove, Edwin Torres, Paul Beatty, Jimmy Santiagco Baca, and a hundred others.
---
The publisher of Robert Frost is happy to proclaim that the poetry franchise has come back to the people. In celebration of the release of Aloud! Voices of the Nuyorican Poet's Cafe, Henry Holt and the Online BookStore will be periodically posting works by featured poets on this site beginning in October 1994.
---
---
About the Editors
To the Henry Holt Homepage