This is an archive page !!!
---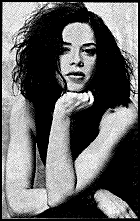 photo by for Nu Yo Records
Maggie Estep
---
MTV Poet Laureate Maggie Estep is not a normal girl.


"I sort of wrote my first poem so that I could use the word cheese alot."

"I've witnessed the deaths of (too) many of our distinguished Nuyorican poets, as well as Padrino Miguel Algarín's giving birth to the Poet's Cafe. It is a center within the universe where we become family, where elders empower children, where our souls find a watering hole and, no matter where we came from, our hearts cultivate the space our minds call home."
---