This is an archive page !!!
---
About the Editors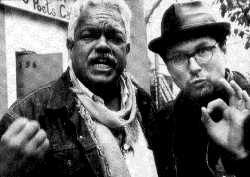 Miguel Algarín and Bob Holman
---
MIGUEL ALGARÍN is a founder of the Nuyorican Poet's Cafe in New York City and has been the radio host of its live broadcasts on WBAI for more than eighteen years. A distinguished poet and critic in his own right (with eight collections to his credit), he was the editor of Nuyorican Poetry ( 1975 ). He teaches at Rutgers University.

BOB HOLMAN is widely known as a poetry activist and frequent guest on all the major TV shows includingCharlie Rose, Ted Koppel 's Nightline, Today, The Tonight Show, and Good Morning America and on MTV. His mission is to set poetry free, to empower the public with language to make poetry as natural a use for language as ordering a pizza. As Bob says, "The universal remote control is being passed into your hands. Poetry is the Language of the Future.
---
Updated June 24, 1996