from Restoration
(Miramax Films)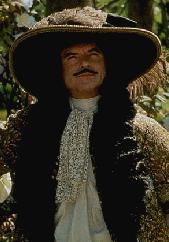 Sam Neill as King Charles II
---
Merivel: Our King is restored to us, the theatres are open, wigmakers are happy as whores, and rich men go to heaven again! I would like to shake the King's hand.


(Audio Clip WAV 364 KB)



---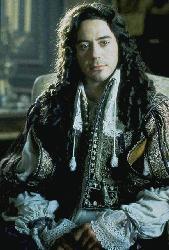 Robert Downey, Jr. as Robert Merivel
---
King: I like you Merivel. Yours is a curious and original mind and in this new age, originality is of great value.
---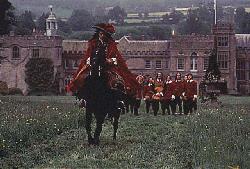 Merivel at Bidnold Manor
King: You are my final hope Merivel, if you can cure her I will offer you a place here as a court physician.
---
---
from Internet Resources
---
"1660 May 2nd....Great joy all yesterday at London, and at night more bonfires than ever, and ringing of bells, and drinking of the King's health upon their knees in the streets, which methinks is a little too much. But every body seems to be very joyfull in the business, insomuch that our sea-commanders now begin to say so too, which a week ago they would not do...."

(from The Diary of Samuel Pepys, May 2 to May 26, 1660)

---
"...Yet great fears and troubles were in many people, and a looking for the King's coming in, and all things being altered...."

(from George Fox: An Autobiography, In the First Year of King Charles 1660)

---
1026 He said. Th' Almighty, nodding, gave consent;
1027 And peals of thunder shook the firmament.
1028 Henceforth a series of new time began,
1029 The mighty years in long procession ran:
1030 Once more the god-like David was restor'd,
1031 And willing nations knew their lawful lord.


(from "Absalom and Achitophel" a poem by John Dryden (1681))

---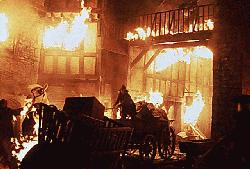 The Great Fire of London
(from Restoration by Miramax Films)
---
The Great Fire of London September 2, 1666:

"...By and by Jane comes and tells me that she hears that above 300 houses have been burned down to-night by the fire we saw, and that it is now burning down all Fish-street, by London Bridge....

"...the Lieutenant of the Tower, who tells me that it begun this morning in the King's baker's house in Pudding-lane...

"...So I down to the water-side, and there got a boat and through bridge, and there saw a lamentable fire....Everybody endeavouring to remove their goods, and flinging into the river or bringing them into lighters that lay off; poor people staying in their houses as longs as till the very fire touched them, and then running into boats, or clambering from one pair of stairs by the water-side to another...."

(from The Diary of Samuel Pepys, The Great Fire of London September 2, 1666 (Lords Day))

---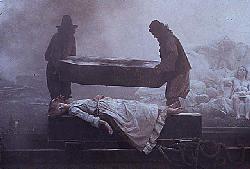 Plague Victims
(from Restoration by Miramax Films)
---
"...During her married life she is said to have been in affluence, and even to have appeared at the gay licentious Court, attracting the notice of and amusing the King himself by her anecdotes and cleverness of repartee; but when her husband died, not impossibly of the plague in the year of mortality, 1665, she found herself helpless, without friends or funds. In her distress it was to the Court she applied for assistance..."

(from Memoirs of Aphra Behn by Montague Summers (1914))

---
"...Art goes yet further, imitating that rational and most excellent work of Nature, man. For by art is created that great LEVIATHAN called a COMMONWEALTH, or STATE (in Latin, CIVITAS), which is but an artificial man, though of greater stature and strength than the natural, for whose protection and defence it was intended; and in which the sovereignty is an artificial soul, as giving life and motion to the whole body..."

(from the Introduction to Leviathan by Thomas Hobbes (1651) (1.17 MB))

---
"...To understand political power aright, and derive it from its original, we must consider what estate all men are naturally in, and that is, a state of perfect freedom to order their actions, and dispose of their possessions and persons as they think fit, within the bounds of the law of Nature, without asking leave or depending upon the will of any other man..."

(from Concerning Civil Government, Second Essay: Chapter I, Of Political Power by John Locke (1690) (300 K))

Additional Internet Resources
Charles II Stuart, King of England
A short biographic entry from Royal GEDCOM.
The Diary of Samuel Pepys
Clerk of the Acts (secretary) to the Naval Board, Pepys encrypted his diaries to insure his private escapades wouldn't interfere with his rather prominent public position at the time. His diaries remained locked in unreadable code for the next century.