This is an archive page !!!
---
Download the FREE Time Warner Quick Reads SAMPLER for Windows
Time Warner Quick Reads Cookbook Library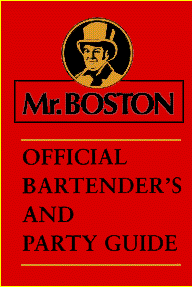 Mr. Boston Official Bartender's and Party Guide
What will it be? A Frisky Witch or a Gentle Ben? A Flying Dutchman or a Creamy Monkey? Mr. Boston's Official Bartender's And Party Guide will let you mix your favorite drinks in the comfort of your own home. With over 11 million copies in print, America's favorite drink mixing guide also includes the classics, such as the Dry Martini, the Old Fashioned, and the Tom Collins, as well as a complete party planner and numerous entertaining Party Tricks. Quick Reads technology places your favorite drink only a few keystrokes away! Within seconds, retrieve the recipe for your favorite drink from over 1,200 entries in Mr. Boston: Official Bartender's And Party Guide.
---
How to Purchase Time Warner Quick Reads
Purchase this Time Warner Quick Read: $11.95 ISBN: 1-57304-193-9
---
Internet Links to Drink Recipes:
Acats InterNet Bar Pages
Maintained by a group of people calling themselves ACATS who sometimes work as bartenders, these pages are intended to give advice to newcomers about tasteful drinks and other things worth knowing about in the drink business.
Bar Guide for the Virtual Shed and Bartender's List
Two HTML versions of the Legendary Internet Drink List, gleaned from a multitude of Internet nooks and crannies, compiled by several editors, and now resposted in many places in various ongoing incarnations.
Freedom of Vodka(tm]
You play the bartender: build, name, and serve your own virtual vodka drink.
"Vodka, ach Vodka"
Lyrics from an ode to the spirit.
"A short guide to the St Petersburg hangover"
A chapter from The Other St Petersburg, text and translation by John Nicolson ( St Petersburg, 1994).
Cookbook Library Internet Links
---
Copyright © 1995 Time Inc. All rights reserved. If you have any comments or suggestions, please e-mail them to twep-webmaster@www.timeinc.com