This is an archive page !!!
---
 OBS   Back   Forward   Contents   Align Page
---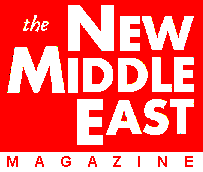 ---
Egypt's Hollywood Mammoth film center going up near Giza
Egyptian film makers already have partial access to a great new production center being built near Giza. The $400 million project, covering 500 acres, will be completed in stages over a ten-year period.
by Peter Warg
Egyptian Pharaoh Akhenaton is to rise from the desert sands at a mammoth television and cinema production center under construction some 15 kilometers from the Great Pyramids of Giza.
The celluloid resurrection of the iconoclastic monarch (circa 1380-1362 B.C.), whose monotheistic notions horrified much of the priesthood and public in his day, is planned for a TV mini-series tentatively titled "The Seeker of the Truth," to be filmed at the center's Pharaonic sets.
Though none of the proposed 13 state-of-the-art sound stages in Sixth of October City are yet in place, Egyptian television directors are already yelling "action" on various exterior sequences at the permanent outdoor film sets at the site.
The $200-million, 500-acre production venue - officially called Media Production City - is billed as eventually being one of the largest of its kind outside of Hollywood. Its development timeframe is 10 years and, besides the sound stages and outdoor sets, plans include film processing labs, an open-air theater, a training center, administration offices and a hotel for actors, production personnel and visitors.
A $2-million consultancy and detailed design contract for the center was awarded last year to the French firm, Sofratev, with a French government grant covering its cost. International tenders for the first four of the sound stages are expected to be announced late this year or early in 1995, according to Ahmed Fouad Hafez, Sofratev's Cairo representative. The Ministry of Information, which is sponsoring the project, hopes to have six of the interior stages in operation by 1997.
Among the outdoor sets already finished or nearing completion are the Pharaonic cityscape and a Medieval Islamic backdrop for period productions, an Egyptian village, modern Egyptian street scenes and an agricultural setting - complete with irrigation canal, bridges and a pumping station. There are also 200 meters of railway track with two different station buildings, crossing gates and signalling devices. Egyptian State Railways donated two disused but operative locomotives - one diesel and one steam along with passenger cars.
The outdoor sets are being constructed under the direction of the projects department of the Egyptian Radio and Television Union (ERTU), which is affiliated to the Information Ministry. Electricity, water and other infrastructure are being supplied by local contractors.
The media center was recently used for some of the outdoor scenes of a major TV film, "Nasser 56." The film covers the tumultuous year in which the late president, Gamal Abdel Nasser, nationalized the Suez Canal, an act that prompted the tripartite invasion of Egypt by Britain, France and Israel.
A facade of the old Alexandria stock exchange was constructed at the site for Nasser's momentous balcony speech of July 26, 1956, announcing Egypt's take-over and giving the now-famous code word "de Lesseps." Ferdinand de Lesseps was the canal's designer and major proponent, and the use of his name was the pre-arranged signal for the army to move in and take over canal headquarters in Ismailia. "Nasser 56" stars leading film actor Ahmed Zaki in the role of the president.
Also going before the cameras are outdoor sequences from two new Egyptian TV serials, "El Hamoul," a soap opera set in an Egyptian village and "El Forsan" (The Knights), a costume drama set in Mamluk Egypt. An outdoor slave market was recreated for the latter.
"Our plans for expanded television production make the center an absolute necessity," said Mahmoud Khattab, projects director for ERTU. The center is seen as a facility for both local and regional Middle East TV and cinema production.
ERTU, as the Arab world's largest producer of soaps, historical/religious serials, TV movies and children's programs (current output is about 700 hours a year), has a ready-made niche in the Middle East market. It also sells programs especially Islamic religious serials - to non-Arab Islamic countries such as Malaysia and Indonesia, and Arabic-language TV stations in Europe. In addition, it has been exploring possible sales deals and co-production ventures with the newlyindependent, largely Moslem states in the central Asian part of the former Soviet Union.
Media Production City is seen as a supplement to, and eventual replacement for, ERTU's four overworked production studios in Cairo's Radio and Television Building, in downtown Corniche el Nil. Filming demands here are so heavy that interior scenes for TV productions are sometimes shot in rented, furnished apartments.
The idea for a new TV and cinema production center in Sixth of October City has been floating around for some time. In the mid1980s preliminary designs were carried out by Japan's Yamashita Architects and Engineering Inc., in collaboration with the staterun NHK and all-Japan Radio and Television Engineering Services Ltd., under a grant-aid project of the Japan International Cooperation Agency.
Now that the center is actually getting off the ground, it poses a large question mark over Egypt's announced plans to privatize four film studios near Cairo, run by the Ministry of Culture. These were built in the 1930s and 1940s by private investors and nationalized under Nasser's "Socialist Decrees" in the early 1960s. They were among some 200 government holdings mooted for the auction block as part of larger economic reforms worked out between Egypt and the World Bank three years ago.
"The film studios... are antiquated and... would require major investment in new equipment by any potential buyer," said leading Egyptian film critic and historian Mustafa Darwish. Egypt's film industry currently produces some 60 to 70 feature films a year.
With the new production center in the works, the older studios would necessarily lose their appeal-except to real estate speculators. Three of the four studios are sitting on what has become extremely valuable building property, near the Giza pyramids.
(The writer is a Cairo-based journalist.)
---
 OBS   Back   Forward   Contents   Align Page