This is an archive page !!!
---
 OBS   Back   Forward   Contents   Align Page
---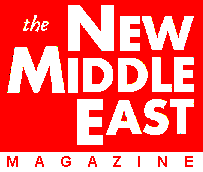 ---
A comedy team that keeps Jordan laughing
Nabil and Hisham, Jordan's popular comic duo, have opened new windows on political humor in the Hashemite Kingdom. Our special correspondent talked to them backstage at Amman's Rainbow about the new openness in Jordan that gives wings to their hilarious spoofs.
By Lisa Fliegel
You don't need to understand Arabic to know that Nabil and Hisham are funny. They are a comic team in Amman that has all of Jordan rollicking. With a TV show and regular performances to capacity audiences in Amman's Rainbow Theater, they spoof everything and everybody, even King Hussein.
"Ahalan Ya'Salam," their fourth satirical co-production, takes on the peace process. In the opening scene Cain and Abel fight over who is to get Eve.
"That's the farce," Hisham told me in an interview before the show. "There are only two men in the whole world and the first thing they do is go at each other's throats."
In the next scene, Joshua comes to Jericho. He commands his Jewish army, costumed as cavemen to slaughter the Canaanites and conquer the Promised Land. The soldiers protest the injustice of this order. But Joshua insists "Though shalt kill is one of the Ten Commandments," he says.
"No it's not," they protest.
"All right then, so it's the eleventh," Joshua retorts.
The audience doesn't just laugh. It affirms a comic interpretation of history's ironies. "We've come full circle," Hisham chuckles. "Here we are and it's Jericho all over again."
The spoof was actually inspired by a lecture on the peace process which Nabil and Hisham attended. Afterwards they decided to "write for peace" by satirizing it.
The success of the comedy team reflects what Jordanians call the "new openness" in the country that enables greater freedom of expression.
"The moment the censor was put aside, we took off like race horses," Nabil recalls. "Artists are usually social critics, latent politicians, sensitive to the events around them," he says , but refuses to have his theater defined. "Yes, we are political - Shakespearean, Brechtian, improvisational. We do what we feel; like doing, whatever suits us."
Some attribute Jordan's easing of domestic restrictions to the Israel-PLO rapprochement. "That required new rules at home and players who could play by them," wrote George Hawatmeh, editor of The Jordan Times. "Nabil and Hisham are two prominent players changing the rules of the Jordanian stage."
The two comics believe that the Gulf War was a major factor in promoting Jordan's greater liberalization.
"The humor was always there, but the people repressed it," Hisham observes. "Then the Gulf War came. Jordan was besieged. There was a harmony to our collective agonizing. Internal reins were loosened. In our fight for survival, satire finally became an accepted weapon. It's as if a whole country got together and said 'hell at least we can be funny.'"
"To talk about politicians in theater touches a receptive chord," he says. "The audience enjoys freedom, breaking taboos. In the past one couldn't put politics or religion on stage. Now we do, and without inhibition. At the same time we know our limits. The key is to be sensitive, not censored."
Both Nabil and Hisham come to their newly-won popularity after much theatrical experience.
Nabil Sawalha owns the Rainbow Theater where the duo performs. From Madaba in Jordan, he originally studied engineering, but then went on to the London Academy of Music and Theater Arts. He has a long career record of acting and writing in both Arabic and English for Jordan TV , and other Amman cultural centers. "But, it felt like a dead end," he says. "I never felt the warmth of a long-run supportive audience. I wanted to speak more directly to the people."
Hisham Yaness, who was born in Jaffa and studied history at Cairo University, also worked at Jordan TV. He wrote the scripts and acted in the PBS Arabic version of the popular educational children's' show The Electric Company. Then his career took him to New York and later the Gulf. He had a central role in Qatar broadcasting until the Gulf War when such prominence was made illegal in Qatar for Palestinians. This brought him home to Jordan and a renewed partnership with Nabil.
They have known each other since 1962 and have worked together off and on since 1968. "We've lived through some incredible periods," they say to explain the magic of their teamwork. "The right people came together at the right time. Some people wait their whole lives for this."
The first in their series of theatrical co-productions - "New World Order" - was produced following the Gulf War. The show ran for twenty months. It was such a hit that some people came back to see it as many as fifteen times.
On the 40th anniversary of King Hussein's Inauguration Nabil and Hisham were asked to perform at the Royal Theater "I impersonated the king right in front of him; he did a double take and gave a standing ovation," Hisham giggles at himself in amazement. "He came to our next show, 'Budget and Parliament' as a regular customer, with no guards and no warning."
That ran for six months, and still another blockbuster, "Arab Summit," played to an audience of 2000 for four straight nights at the Jerash theater festival.
Amal Al Dabbas is the female lead in Nabil's and Hisham's review. She began her acting career for Jordanian television at age 17. In the show, Amal plays such roles as Eve and Delilah, the Universal Refugee Mother, an airline stewardess on the "Peace Plane" and the Barbara Walters of Jordanian TV. She is deadpan and zany, slapstick and understated. The audience can't help but sense how much these three leads enjoy each other's company.
A hilarious scene in the show is called "Washington." Nabil plays Israeli peace negotiator Elyakim Rubinstein skull cap and all. Hisham plays Jordanian prime minister Majali donned with an umbrella the colors of the Jordanian flag. This Jordanian "umbrella" (which reappears quite leaky in later scenes) enabled the Palestinian negotiating team to gain admission to the Madrid peace talks. Amal plays a hard-line Hanan Ashrawi. The impersonations are impeccable, and amidst the bickering and delaying tactics of the negotiators, we see the Oslo agreement tiptoeing in through history's backdoor, evading the eye of the media, until the dove was ready to fly.
Later on Sadat, referring to the Cairo Agreement between Israel and the PLO, laughs at the Arab people from the heavens: "What did you bother shooting me for, if this is what you were going to settle for in the end?"
On stage and off, Nabil and Hisham define their support for peace. "It must be based on the legitimate rights of both peoples. The security of Israel is legitimate. But if the Palestinians are denied their rights the Israelis won't have security." This is Nabil, Hisham and Amal's statement of purpose.
"Jews and Arabs have the same sense of humor," Nabil says. "We both know how to laugh at ourselves."
After the show, the audience pushes towards the stage to congratulate and thank the hosts for a lovely evening. It is the kind of warm and direct contact that both Nabil and Hisham find inspiring.
In a year or so they expect to be able to perform in Gaza and Jericho. "From there we'll move on to Jaffa and Haifa and Tel Aviv, " they say.
For Nabil and Hisham laughter is an accomplice of peace.
---
 OBS   Back   Forward   Contents   Align Page