This is an archive page !!!
---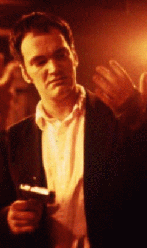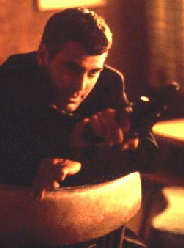 From CINE-LOVE to VIOLENCE?
OK Hangman Fans, which is it? "Cine-love" and "violence" contain the same letters of the alphabet; what other elements do they share? Quentin Tarantino, no stranger to violent emotions, directs us: "Tell the truth...", and apparently he, along with many of his fans, find truth and beauty in the gore and bad-guy glory of his films.

"Beauty is truth, truth beauty,--that is all Ye know on earth, and all ye need to know." --John Keats "Ode on a Grecian Urn"

"You know," says Tarantino, "...you can make a joke out of anything. You name me any horrific thing, and I can make a joke out of it, all right, because you know... a joke is a joke."

Some people aren't laughing. To some, sex, vulgarity, and "Violence... like another character in the room" are downright indecent, and the expression of this kind of truth should be prohibited.

To illustrate what such prohibition might mean when applied to From Dusk Till Dawn, consider a "Milk and Cookies" version of this vampire movie. So it's a lie, so what? We want to give the Internet a free voice in the matter, and that included sponsoring a contest among the wired public to see who could create the best Home Page.

Which site deserved to win? A Sanitized "Leave it to Beaver"-ish version? Or something closer to the movie's own truth? Dimension Films made the final decision, but you are welcome to challenge their decision, or anything else on this site with an opinion of your own. We hope you have one!
<!SWEEP_DUSKF1>
---
DUSK | DOORWAYS | PARTICIPANTS | FORUM | MAIL LIST | CONCESSION
---
<!SWEEP_DUSKF1> <!SWEEP_DUSKF2>

© Copyright 1996 - 1998 by Dimension Films.
© Copyright 1996 - 1998 Online Edition by OBS. All rights reserved.
These pages are designed to be viewed with Netscape!


<!SWEEP_DUSKF2>