from Restoration
(Miramax Films)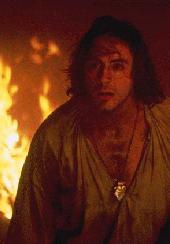 The Great Fire of London 1666
---
Sign at door of the Whittlesea Hospital:
"Behold I have refined thee in the furnace of affliction"

---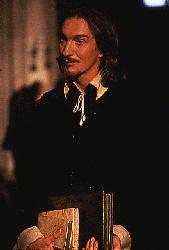 David Thewlis as John Pearce
---
Merivel: Perhaps I was near a cure for her!


Pearce: That is somewhat arrogant! Cures are not performed by us-- only Jesus cures-- we are merely His agents.


Merivel: But may we not, as His agents, look to ourselves, to our own experience, to aid in a cure?

(Audio Clip WAV 176 KB)
---
Ambrose: Lord, send a light to show Robert the way.

---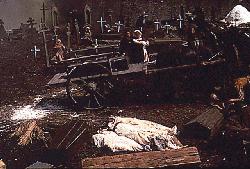 The Cemetary
---
---
from Internet Resources
---
"... the matters therein charged against me were that I was a person generally suspected to be a common disturber of the peace of the nation, an enemy to the King, and a chief upholder of the Quakers' sect; and that, together with others of my fanatic opinion, I had of late endeavoured to raise insurrections in these parts of the country, and to embroil the whole kingdom in blood....."

(from George Fox: An Autobiography, In the First Year of King Charles 1660)

---
"Honored Sir, Since you are pleased to inquire what are my thoughts about the mutual toleration of Christians in their different professions of religion, I must needs answer you freely that I esteem that toleration to be the chief characteristic mark of the true Church...."

(from "A Letter Concerning Toleration" by John Locke (1689) (115 K))

---
"...Men despise religion; they hate it and fear it is true. To remedy this, we must begin by showing that religion is not contrary to reason; that it is venerable, to inspire respect for it; then we must make it lovable, to make good men hope it is true; finally, we must prove it is true...."

(from Pensees: Section III of the Necessity of the Wager by Blaise Pascal (1660) (548 K))

---
"...I saw also, that the Interpreter took him again by the hand, and led him into a pleasant place, where was builded a stately palace, beautiful to behold; at the sight of which Christian was greatly delighted. He saw also, upon the top thereof, certain persons walking, who were clothed all in gold...."
(from The Pilgrim's Progress (Section 2.7) by John Bunyan (1678 ) )

Additional Internet Resources
George Fox: An Autobiography (1624-1691)
Full hypertext version of this record of the political and religious climate of the time, including the Restoration, as viewed by the founder of the Quakers.