from Restoration
(Miramax Films)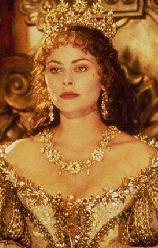 Polly Walker as Celia Clemence
Merivel: A most lavish affair! Who is to be married?

King: Celia Clemence.

Merivel: I understood she was your mistress!

King: Then you understood right, Merivel...
...Miss Clemence is to be married and seemingly dispatched out of London with her husband, while in fact, I secret her near the river in queue -- the better to sport with her unobserved...
...For her husband, I need a man who is far too enamored of women in general to make the mistake of loving one in particular...
...you are to be a paper bridegroom.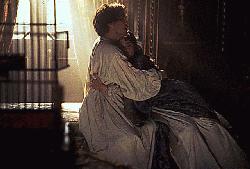 Merivel and Celia
---
Katharine: Every man on earth has his leaving step. If my husband had been a small man, he would not have been able to leave me. But he was a large man, and stepped over me as I slept, one great stride.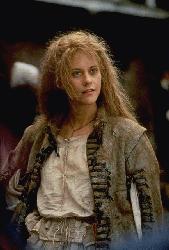 Meg Ryan as Katharine
---
Katharine: You know, in Ireland a man with a horse, a cart, and a book he knows how to read is the catch of the county.


Merivel: Well, perhaps when we have made fire of the cart, and eaten the horse, and wiped our asses with the book, you'll become acquainted with what you have caught.


(Audio Clip WAV 165 KB)
---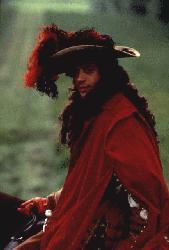 Sir Robert Merivel
from Internet Resources
1 It is not, Celia, in our power
2 To say how long our love will last;
3 It may be we within this hour
4 May lose those joys we now do taste:

(from "To a Lady, Asking Him How Long He Would Love Her" by Sir George Etherege (1672))

---
An hundred years should go to praise
Thine Eyes, and on thy Forehead Gaze.
Two hundred to adore each Breast.
But thirty thousand to the rest.
An Age at least to every part,
And the last Age should show your Heart.
For Lady you deserve this State;
Nor would I love at lower rate.
But at my back I alwaies hear
Times winged Charriot hurrying near:


(from "To His Coy Mistress" by Andrew Marvell (1681))

---
748: Our Maker bids increase, who bids abstain
749: But our Destroyer, foe to God and Man?
750: Haile wedded Love, mysterious Law, true source
751: Of human ofspring, sole proprietie,
752: In Paradise of all things common else.


(from Paradise Lost, Book 4 by John Milton (1667) (62 K))

---
13 'Tis a madness that he should be jealous of me,
14 Or that I should bar him of another:
15 For all we can gain is to give our selves pain,
16 When neither can hinder the other.


(from "Marriage A-La-Mode" (excerpt) by John Dryden (1672))

---
---
Additional Internet Resources
Medieval/Renaissance Wedding Information
Although most of the information predates the English Restoration, this site offers an extensive collection of bibliographies and newsgroup FAQs related to planning a period wedding.
Representative Poetry
A well-indexed electronic edition of the University of Toronto collection. Comprised of English poetry from the early-medieval period to the beginning of the 20th century, including: