!SWEEP_POST1>
This is an archive page !!!
---
<!SWEEP_POST1>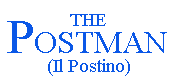 ---
COPYRIGHT NOTICE
---
Copyright Notice to the Open Book Systems (OBS) Edition of The Postman (Il Postino) based on the 1995 movie by Miramax Films. Copyright © 1996. All rights reserved.

All images, video, and audio files reproduced here from the movie The Postman (Il Postino) are copyright © 1996, by Miramax Films. All rights reserved.

All text files excerpted from the book The Postman (Il Postino) by Antonio Skármeta are from the Miramax Books/Hyperion Edition, 1995, copyright © by Antonio Skármeta

---

THE FOLLOWING STATEMENT OF INTENT AND ACCOMPANYING ORDERING INFORMATION MUST REMAIN INTACT AND UNEDITED AND APPEAR AS THE OPENING TEXT ON ALL ELECTRONIC COPIES OF THIS DOCUMENT. USERS MUST REFRAIN FROM REFORMATTING, PRINTING, OR OTHERWISE DUPLICATING THIS DOCUMENT OR ANY PORTION THEREOF, AND MAY NOT PROVIDE ACCESS TO THIS DOCUMENT BY ANY MEANS, EXCEPT AS A POINTER TO THE OPEN BOOK SYSTEMS (OBS) COPY OF THIS DOCUMENT, WITHOUT EXPLICIT WRITTEN PERMISSION FROM OPEN BOOK SYSTEMS (OBS).

Statement of Intent

With this Open Book Systems electronic text release, we are outwardly adjusting the frontiers of conventional publishing to make current literature available to the Internet audience in a fashion that enables the authors and electronic rights holders to be paid for their work.

This electronic document is for online personal use only and not for reformatting, resale, or distribution, by electronic means or otherwise, without written permission from Open Book Systems (OBS), Whistlestop Mall, Rockport, Mass., 01966, U.S.A. For printed books, check your local library, bookstore, or order from Open Book Systems. By honoring the conditions of this online release, you allow the creators of this work to be compensated for creating it, and you will pave the way for other current works to come online.
<!SWEEP_POST2>
---
Il POSTINO | LIVING POETRY | TELEPOETICS | MAIL LIST | BUY THIS BOOK | MOVIE MENU | MIRAMAX | OBS
---
<!SWEEP_POST2> <!SWEEP_POST3>

© Copyright 1996 - 1998 by Miramax Films.
© Copyright 1996 - 1998 Online Edition by OBS. All rights reserved.
These pages are designed to be viewed with Netscape!


<!SWEEP_POST3>