This is an archive page !!!
---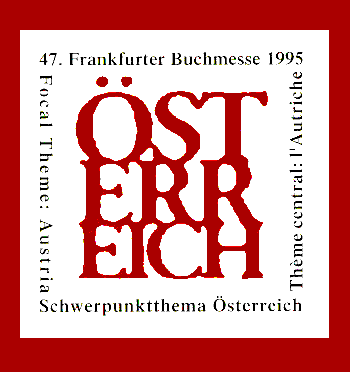 Having Austria as the Focal Point of the 1995 Frankfurt Book Fair represents the first time in the history of the Fair that there has been a German-language focus.
The literature of Austria is sustained by the thematic conflicts of harmony and rifts, of encounters and confrontations, of changing relationships and the overstepping of boundaries. These complicated associations reflect a cultural diversity which is truly representative of Europe.
The diverse programmes for the Austrian Focal Theme were set up in conjunction with the most important Frankfurt cultural sites and institutions, along with the Austrian publishing houses and institutions. A thematic and comprehensive programme is presented, ranging from the Book Fair events to public functions in and around Frankfurt, offering visitors different interpretations of the cultural development in Austrian culture during the 20th century in the form of literature, music, art, and architecture.
In this autumn of 1995, numerous public functions invite Frankfurt Book Fair visitors to take part in cultural "expeditions" to Austria:
Opening Evening, Wednesday October 11, 1995
An evening of literature and authors, of theatre and music.

Venue: Old Opera House, Frankfurt
Austrian Art between Tradition and European Avantgarde

Venue: Schirn Art Gallery, Frankfurt
History of Austrian Drawing from 1900 to 1938
An extensive exhibition featuring approximately 200 drawings – including the work of Arnold Schönberg and Koloman Moser.

Venue: Frankfurt Art Society
Interplay – Six Evenings with Literary Concerts and Concert Literature
Venue: Old Opera House, Frankfurt
Vienna Literature House at the Frankfurt Literature House
The Frankfurt Literature House as a stage for literature, music, performances and fine arts.

Venue: Frankfurt Literature House
Stefan Zweig: A Town and its Poet
An exhibition about the poet.

Venue: Carmelite Convent, Frankfurt
Television – a modern literary medium.

A ZDF and ORF coproduction
An exhibition of the music and cabaret culture of the period between the two world wars.

Venue: Jewish Museum, Frankfurt
Early Austrian Publishing Trade
The beginnings and development of the publishing culture in Austria.

Venue: Frankfurter Sparkasse
Jugendstil and Modern Illustrations of Books for Younger and Older Children
Venue: Klingspor Museum, Offenbach
Modern Austrian Architectural Projects
Modern Austrian architecture that focuses in housing projects.

Venue: German Architecture Museum, Frankfurt
Imperial and Royal National Factory Production Cabinet
Mass production and every day decorations at the dawning of modernism.

Venue: Arts and Crafts Museum, Frankfurt
"Hohe Tauern" as a Cultural Landscape. Minerals and Ore
A history of culture and nature, ecology and tourism of the Tauern region.

Venue: Senckenberg Museum, Frankfurt
Public Functions in the Mousonturm
Venue: Mousonturm, Frankfurt
Thomas Bernhard, Karl Kraus

Venue: Frankfurt Theatre
Note:
All museum pictures referenced here have been reprinted by permission of the LAVA Team.
---
---
These pages are designed to be viewed with Netscape!
Please mail editorial comments to editor@obs-us.com
© Copyright 1995, OBS. All rights reserved.