This is an archive page !!!
---
What Did They Eat?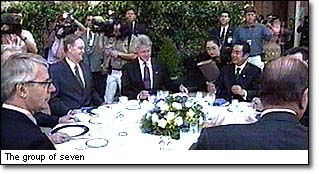 Even when the subject matter may be sobering and unappetizing, world leaders need nourishment, and the G7 leaders who are meeting in France are no exception. Perhaps something they ate appears in Nos recettes preferees, by Bernard Paques, a wonderful little recipe collection, en francais.
For more resources on la cuisine francaise, search the McKinley Magellan Internet Guide and the McKinley Internet Yellow Pages.
Posted June, 1996.
© Copyright 1996 OBS