This is an archive page !!!
---
G7 Leaders Discuss Terrorism
in Wake of Dhahran Bombing
The leaders of the world's seven wealthiest countries, meeting for an economic summit in Perouges, France, have vowed to take strong cooperative action to combat terrorism. The discussions are taking place only days after a truck bomb destroyed a housing complex at an American military base in Dhahran, Saudi Arabia, on the Persian Gulf. 19 Americans were killed in the blast, and several hundred were injured.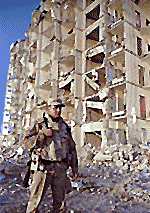 The bombing brings to the forefront a number of widely ranging, but interrelated, circumstances:
The ongoing strain of violence in the Middle East, and the presence of terrorists in a highly authoritarian country where the very existence of terrorism just a few years ago would have been shocking
The deep resentment on the part of Islamic militants against Western, and particularly American, influence in the Middle East, and the underlying fragility of peace and order throughout the region
The vulnerability of U.S. installations abroad -- even secured military installations in countries as tightly controlled as Saudi Arabia
The realization that terrorism is a constant threat everywhere, that terrorists operate on an international scale, and that governments the world over must work together if they are to protect their citizens
These are some of the thoughts that underlie the discussions in France. The G7 leaders -- the governmental heads of the United States, the United Kingdom, France, Germany, Italy, Canada, and Japan -- are all in agreement that something must be done. They are not in agreement, however, about what must be done. European leaders, for example, oppose recent U.S. legislation, embodied in the Helms-Burton Act, that provides for punishing companies who do business with countries that allegedly support terrorism -- in particular Cuba, Libya, and Iran.
Nevertheless, the G7 leaders, joined by Russian Prime Minister Viktor Chernomyrdin, are discussing several specific measures proposed by the United States to track, capture, and punish terrorists. Further, more detailed, talks will be held on the ministerial level next month to work out details of the anti-terrorist actions.
All the News That's Fit... and Then Some
The World Wide Web is full of news sources that have reported the events in Dhahran and Lyons. Among them are the online editions of the New York Times, the Nando Times (Raleigh, NC), and the San Jose Mercury News -- all 4-star McKinley Magellan sites.

Posted June, 1996.
© Copyright 1996 OBS