This is an archive page !!!
---
Olympian Heroism

Now that the 1996 Summer Olympics are upon us, we will be inundated by stories of athletic skill, speed, stamina, and strength. We'll be flooded by images of great athletes running and rowing and shooting. We'll be deluged by accolades, drenched in hyperbole, awash in commercial messages touting this brand of sport shoes, that soft drink. We may even hear controversy about whether this year's host city, Atlanta, is the "right" place for such a set of events.
And once in a while, we may even be reminded of what the Olympics are supposed to be all about: a world gathering of athletes competing for the joy and challenge of competing; a spirit of togetherness that should transcend the hype and chauvinism -- but doesn't always.
A Busted Kayak,
An Olympian Miracle
Here's a story to take with us into this year's Olympic spectacle. Two weeks ago, a kayak fell apart in the waters of the Ocoee River in Tennessee. The kayak's owner, Samir Karabasic, was taking a practice run in preparation for the Olympic whitewater slalom competitions. Karabasic was to represent Bosnia-Hercegovina. He was, in fact, one of only eight athletes constituting that war-torn republic's entire Olympic team. His kayak was an old, beat-up vessel held together -- but not for long enough -- by duct tape.
The demise of Karabasic's kayak was not the first obstacle to his competing in the Olympics. During the past several years, other things have happened:
To compete in the kayaking World Cup last year, Karabasic had to be taken out of his home country by helicopter. Because the route crossed a war zone, he first had to sign a liability release. Two months later, the same helicopter was shot down by Bosnian Serb forces, killing the Bosnian foreign minister.
The fighting in Bosnia made it impossible for Karabasic to train for most of the past four years. He was drafted into the Bosnian Army and assigned to special forces because of his knowledge of Bosnia's rivers.
For six months last year, Karabasic was sick with hepatitis.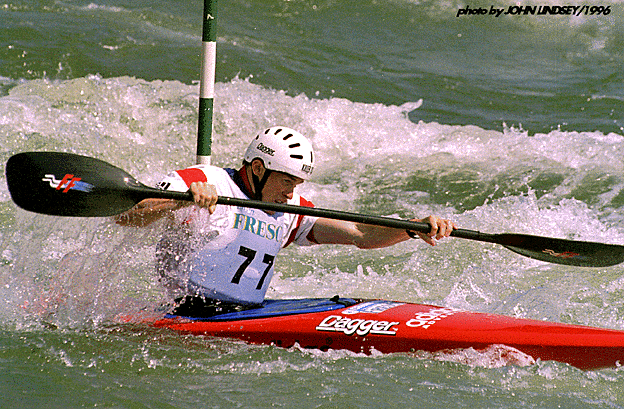 Scott Shipley (photo by John Lindsey)

A New Kayak. When Scott Shipley, of Poulsbo, Washington, learned of Karabasic's misfortune on the Ocoee River, he decided to help. Shipley, who is favored to win the whitewater slalom competition July 27-28, gave his competitor one of his kayaks. And not just an old, battered bucket that he happened to have lying around in his garage. Shipley, who is being sponsored by three companies, gave up the custom-designed kayak he paddled while winning the World Cup last year and the U.S. Olympic team trials this past spring.

Shipley himself went through some hard times on his way to becoming a world-class kayaker, living for a while in a tree house on an annual income of $10,000. But hearing Samir Karabasic's story taught Shipley what "hard times" really mean -- and brought out Shipley's remarkable sportsmanship.

Karabasic, who has been unstinting in his expressions of gratitude, hopes the new boat will bring him luck. But he doesn't particularly care about winning. He will be happy, he says, if he finishes in the top twenty competitors. And even if he doesn't, he says, "The goal is already achieved to get here. Winning and losing doesn't matter. To represent my country on an international level and show we are strong is enough."

Go, Samir! The whole world is pulling for you.

- Story adapted from The Seattle Times, July 13, 1996
Follow the Olympics
Not surprisingly, there's a wealth of Web sites dedicated to helping you follow the events at this year's Summer Olympics.

The Magellan Internet Guide especially recommends the following, which will certainly get you started:

The Atlanta Games, sponsored by The Atlanta Journal-Constitution in cooperation with World Media Network.

It's Atlanta! Atlanta resident Dave Rosselle's Web site contains dozens of links to Olympics-related pages.

NBC Sports Presents the Centennial Olympic Games, a big, glitzy site that's prepared to report on all the sports in this summer's games.

NetLanta, a Web site contains much useful information about the city of Atlanta, housing, transportation, and other matters related to, but apart from, the games themselves.
For the Associated Press's version of the story about Samir Karabasic, see U.S. Kayaker Gives Boat to Bosnian Paddler.
The official Olympics Web site. Finally, 1996 Centennial Olympic Games, the official Web site of the 1996 Summer Olympics, is chock-full of information about the games, the venues, schedules of events, how to get tickets, and travel information. Follow the results here as the games progress. You can click to the Sports page for direct links to all of the individual sports.
Other sports? You can find resources on just about any sport you can think of in the McKinley Internet Yellow Pages and the McKinley Magellan Internet Guide.
Posted July, 1996.
© Copyright 1996 OBS