This is an archive page !!!
---
U.S. Congress Votes to Raise Minimum Wage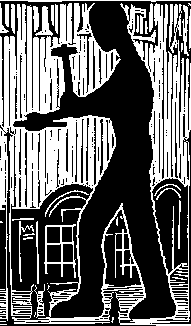 Hammering Man, Seattle Art Museum

For the first time in five years, Congress has passed legislation increasing the minimum wage. The increase will lift the incomes of approximately 10 million American workers by 21 percent in two increments: from the current $4.25 per hour to $4.75, effective as soon as President Clinton signs the bill, and to $5.15 in 1997.

The Senate passed the bill on Tuesday by a vote of 74 to 24. The House of Representatives had passed legislation along these lines previously. President Clinton, an outspoken supporter of the legislation, had threatened to veto the bill if it contained a Republican amendment that would have exempted businesses earning under $500,000 a year and allowed lower "training wages" for workers during their first six months on the job. The amendment was defeated, paving the way for smooth passage through a House/Senate conference committee.
Defeat for Conservatives
Conservative politicians and economists have long argued against the government's setting minimum-wage standards, let alone raising the current level. If the minimum wage is set at or below the prevailing market wage, conservatives argue, it will have no effect. If it is set above the prevailing market wage, businesses will react by hiring fewer workers. This would defeat the purpose of the minimum wage, because the result would be fewer workers working.
Current trends in economic thinking, however, have produced much evidence to the contrary. Bill Saporito, business editor for Time magazine, argues that a higher minimum wage does not really affect whether companies hire or not. In Saporito's words, "Either you need the workers or you don't."
Saporito also argues that it is wrong to believe, as the conventional wisdom has it, that when the minimum wage is raised, small businesses get hurt the most. Large corporations such as McDonald's and WalMart employ more minimum-wage workers as a proportion of their total work force than do small companies.
The controversy continues to burn, however. For two opposing views on the minimum-wage issue, you might like to consider Who Wins With a Higher Minimum Wage, a briefing paper of the Economic Policy Institute in Washington, D.C., and Maximum Opposition to Minimum Wage Increase, a position paper by Karen Kerrigan, president of the Small Business Survival Foundation.
For more information on the subject, search the Magellan.
Resources
You can find a wealth resources on politics and the economy in the McKinley Internet Yellow Pages and the McKinley Magellan Internet Guide.

Posted July, 1996.
© Copyright 1996 OBS