This is an archive page !!!
---
Elections in Israel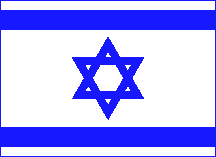 ISRAELI ELECTIONS PUT PEACE PROCESS ON NEW COURSE
3 June 1996
"Last Wednesday, voters in Israel elected Benjamin Netanyahu prime minister by a bare majority. At 46, the Likud Party leader becomes Israel's youngest-ever head of government. The election, pitting Netanyahu against veteran Labor Party leader Shimon Peres, the incumbent, revolved around the ongoing peace process and Israel's search for security in the volatile international climate of the Middle East.
Netanyahu's margin of victory was less than one percent. The closeness of the vote demonstrates that Israeli voters are deeply divided on the issue of how best to deal with their Arab neighbors. Mr. Netanyahu's emphasis on security first and peace second appealed to many Israelis who are alarmed by the increase in suicide bombings by Arab extremists within Israel."
A Good Source of Current News
A good resource for Israeli and Jewish news is the Jewish Communication Network, a link from the McKinley Internet Yellow Pages' 3-star site, PeaceNet Home Page. PeaceNet is a world-wide computer network dedicated to peace, social and economic justice, human rights and the struggle against racism.
For more sources of information, indexed and rated, check out McKinley's online Magellan Internet Guide.
Posted May 31, 1996. Revised June 3, 1996.
© Copyright 1996 OBS