This is an archive page !!!
---
Hurricane Season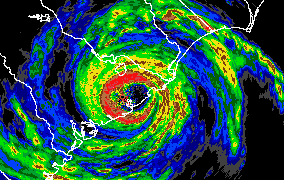 Hurricane Bertha is now spent, but its wake of destruction along parts of the U.S. eastern seaboard tells us that the season for violent storms is upon us.
Bertha did its greatest damage Friday on the coast of North Carolina, where hundreds of thousands of residents and tourists were forced to evacuate as the great storm approached. Just offshore near Wilmington, N.C., Bertha reached her strongest winds, at approximately 115 miles per hour. Millions of dollars' worth of damage were done before the hurricane was downgraded to a tropical storm Saturday, and at least eight deaths occurred from the Virgin Islands to New York. The storm swept up the coastline through parts of New England on Saturday.
Hurricane Preparedness
If you live in hurricane country, there are some valuable resources on the World Wide Web that you can turn to for advice. We suggest that you take a close look at the following pages, print copies of the information, and train yourselves to be prepared. Do it now, before the next storm strikes.

FEMA Hurricane Fact Sheet, published by the Federal Emergency Management Agency, contains a checklist of measures you can take to be prepared for the worst.

Hurricane Preparedness, the City of Miami Beach's guide to handling hurricanes, offers information about what to do before, during, and after a hurricane threatens.

Informaciónes importantes en español: Ayude a un niño despues un huracán, Securidád de los alimentos, y otros informaciónes.
Read Up on Hurricanes
For the violent weather buff, there's no shortage of online materials to awe you about the terrible forces of nature. Try, for example, the Web site of the National Hurricane Center, a division of the U.S. Department of Commerce, National Oceanic and Atmospheric Administration, or NOAA. The NOAA site is huge and full of information, which is why the Magellan Internet Guide gives it a 4-star rating.

A smaller site, the National Weather Service's regional Web site at Tallahassee, Florida, also rates 4 stars. Its Severe Weather section gives severe weather reports for Florida, Georgia, and Alabama.

You may also want to visit the site of NOAA's Hurricane Research Division.

You can find additional resources on weather, both good and bad, in the McKinley Internet Yellow Pages and the McKinley Magellan Internet Guide.

Posted July, 1996.
© Copyright 1996 OBS