This is an archive page !!!
---
Picnicking!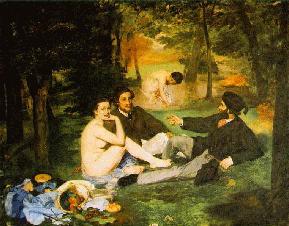 If it's your custom to enjoy a Fourth-of-July picnic, we hope you have every bit as much fun at it as these friends of Edouard Manet seem to be having.
If you're a regular visitor to this site, you know that in this frame we usually bring you a recipe or two, or a bunch of links to many recipe or restaurant sites. We suspect you have your own recipes for Fourth-of-July picnic fare, whether it be hot dogs and potato salad, grilled steaks and corn on the cob, or vegetarian fare.
If, however, you're interested in branching out, the two following links will take you to Web pages with a couple new ideas for picnic food. It's probably too late to change your menu for the Fourth, but the summer is still young (in the northern hemisphere), and there's plenty of time to plan another déjeuner sur l'herbe.
Eureka!'s Picnic Special Lemon-garlic chicken with tomato-basil sauce, grilled corn salad, and meringue clouds for dessert. Mmm, mmmm......
Healthy Picnicking Recipes for our heart and body as well as our stomach.
More Ideas
For more recipes, explore the food and dining sections of the McKinley Internet Yellow Pages and the McKinley Magellan Internet Guide.
Posted July, 1996.
© Copyright 1996 OBS