This is an archive page !!!
---
Elections in the Czech Republic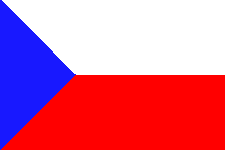 Prime Minister Vaclav Klaus's Civic Democratic Party (ODS) lost ground in the Czech parliament last weekend, as voters scattered their votes among six political parties. The reformist, center-right ODS did finish first, winning just over 29 percent of the votes and 68 seats in the lower house. In second place was the Czech Social Democratic Party (CSSD), with 61 seats. The most notable gain was made by the ultra-right Czech Republican Party (SPR-RSC), led by the brashly outspoken Miroslav Sladek. The SPR-RSC finished in a tie for fourth position in the parliament with 18 seats.
With the parliamentary delegation fragmented and the two largest parties divided on numerous political issues, it may be difficult for Klaus -- or anyone -- to forge a coalition government.
Reports and analysis of current political news from the Czech Republic are regularly available from Radio Free Europe/Radio Liberty online, a site rated 2 stars by McKinley's Magellan Internet Guide. If you're interested in other information about Czechs and the Czech Republic -- from culture to sports to travel -- take a look at the 4-star Czech Info Center.
Czech Religions
Ever since the seventeenth-century Counterreformation, Roman Catholicism has been the dominant religion among Czechs. However, a substantial number of Czechs also practice a national form of Protestantism, which derives largely from the tradition of the early religious reformer Jan Hus (1370-1415).

Facets of Religion, a McKinley Internet Yellow Pages 4-star site, is chock full of links and information resources about many of the world's religions. For more connections, turn to the McKinley Magellan Internet Guide.
Czech Cooking
Roast pork with cabbage and fluffy dumplings, beef roulettes with sour-cream sauce, and poppyseed torte -- these are some of the traditional Czech delights featured in the recipe section of the Czech Info Center, a 4-star Magellan site. And what do Czechs like to drink? -- Pivo is Czech for "beer." Czechs are not alone in claiming that Czech beer is the best in the world.

For more good taste, turn to the McKinley Magellan Internet Guide.

Posted June 8, 1996.
© Copyright 1996 OBS