This is an archive page !!!
---
Chopsticks!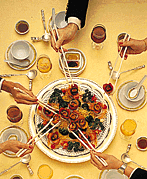 Who can even begin to discuss the world's great culinary cultures without thinking "Chinese"? From abalone to shark-fin soup, from black bean sauce to tofu, Chinese food from a variety of regions offers something to please every palate. Would you like that spiced mild, medium, or hot?
Cooking Chinese
It probably helps to have Chinese blood, but anybody can learn to cook at least a few delicious Chinese dishes. If you're interested, check out Stuart's Chinese Recipes, a link brought to us by one of the McKinley Internet Yellow Pages' recommended food sites, Amy Gale's Recipe Archive.
For more sources of information, indexed and rated, check out McKinley's online Magellan Internet Guide.
Posted May 27, 1996.
© Copyright 1996 OBS