This is an archive page !!!
---
A Burmese Heroine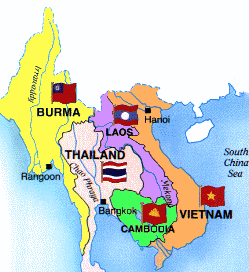 Burma, or Myanmar, as it is now officially called, is possibly the most mysterious country in Asia. Burma/Myanmar has long been ruled by a repressive military government. Within this hostile political environment, one main source of opposition has developed, the National League for Democracy. Its leader is Aung San Suu Kyi (b. 1945), the daughter of U Aung San, leader of the struggle for Burmese independence, who was assassinated when she was two years old.
Defying her government, Aung San Suu Kyi organized a conference of opposition leaders during the past weekend. Nearly all of those who attempted to attend were arrested and imprisoned.
A Courageous Dissenter
Educated at Oxford, Aung San Suu Kyi has long been an admirer of Mahatma Gandhi and his teachings. She organized the National League for Democracy in 1989, and the following year she and other opposition leaders were barred from taking part in national elections and arrested. You can read more about this courageous woman at a Web site, Aung San Suu Kyi. You may also be interested in a recent statement of her movement's aims, as well as her moving essay on power and dissent, Freedom from Fear.

Ms. Aung San was awarded the Nobel Peace Prize in 1991.

For more sources of information, indexed and rated, check out McKinley's online Magellan Internet Guide.

Posted May 30, 1996.
© Copyright 1996 OBS