This is an archive page !!!
---
Bosnia: Arrest
Karadzic and Mladic?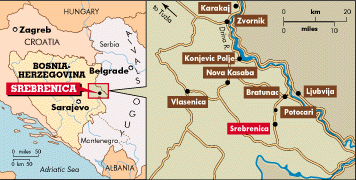 A year ago, on July 11, Bosnian forces overran the town of Srebrenica and massacred more than 3,000 Muslim men. Srebrenica lay in the middle of territory the United Nations had declared a "safe area," surrounded by Serbian-held territory but off-limits to Serbian encroachment. The mass executions, which were discovered and reported by Pulitzer-Prize-winning journalist David Rohde, spurred the West, led by the Clinton Administration, to action. NATO entered the fray with air and ground power, and strong-arm diplomacy led to the Dayton Accords of November 1995, signed by the presidents of the Republics of Bosnia, Serbia, and Croatia.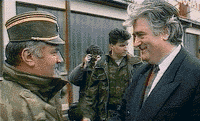 Gen. Mladic (l.) and Mr. Karadzic

Now, following the anniversary of the Srebrenica tragedy, world opinion is calling for the arrest of the two men alleged to be most responsible for the mass executions, Bosnian Serb leader Radovan Karadzic and General Ratko Mladic. Last Thursday, the U.N. criminal tribunal for former Yugoslavia issued international arrest warrants against the two.

Mr. Karadzic, until recently president of the Republika Srpska, the government that rules Serb-controlled territories in Bosnia, handed over his official duties two weeks ago to his deputy, Biljana Plavsic. It is widely believed, however, that Karadzic remains in effective control of the Republika Srpska.

Gen. Mladic, whose current role in Bosnian-Serb military operations is not clear, has been living in a heavily guarded compound only 30 km. from Srebrenica, where it is said that he tends goats whom he has named after Western governmental and military leaders.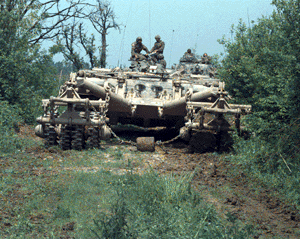 U.S. Panther mine-clearing vehicle

So far, the NATO forces stationed in Bosnia to keep the peace have not had clear orders to seek out and arrest any of the numerous individuals indicted for war crimes, including Karadzic and Mladic. NATO civilian leaders have been at odds over this issue, as some Western governments believe the arrest of the two Bosnian Serb leaders might provoke chaos and violence among the ranks of the Bosnian Serb army.
Where Is Bosnia?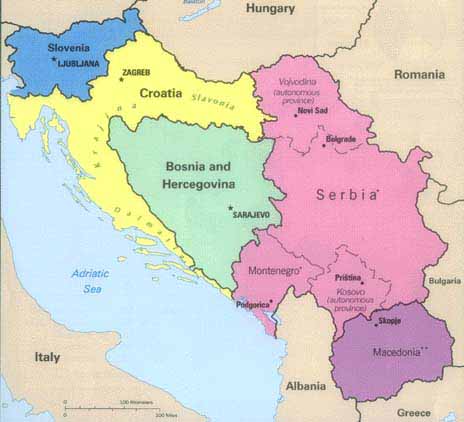 Ten years ago, did you know where, or what, Bosnia-Hercegovina was?
Now the world's attention is focused on this small, poor, mountainous, blood-spattered state in the heart of what was formerly known as Yugoslavia, as the first international war crimes trials since the aftermath of World War II take place.
Amid controversy and confusion, the eleven-member War Crimes Tribunal assembled in The Hague, Netherlands, on May 7, to try numerous individuals for misconduct under the terms of the Geneva conventions and other articles of international law. The list of persons so far indicted includes Bosnian Serbs, Muslims, and Croats, but by far the largest contingent are Bosnian Serbs.
Keep Up with the News
For the past three years, our newspapers and electronic media have been filled with stories of the Bosnian conflict. Some of the best reporting has been published by the Christian Science Monitor, which has a 3-star Magellan Web site. Another excellent resource, rated 4 stars, is Bosnia:Uncertain Paths to Peace, an interactive multimedia photojournalism project published on line by The New York Times. This site also contains links to valuable sources of additional information on the Bosnian conflict.

For the greatest depth of coverage on line, visit Berserkistan, which specializes in news about Bosnia. This 4-star site contains updated stories, distillations of other reports, and links to additional online resources.

For some basic background information about the war in Bosnia-Hercegovina, take a look at The Bosnian Virtual Field Trip. If you're interested in more extensive information, you might want to consult some of the books in the New York Times's recommended Reading List.

The major online news services bring you frequent coverage of the conflict in Bosnia, in widely varying degrees of depth. For help navigating through the many related Web sites, you can rely on the McKinley Internet Yellow Pages and the McKinley Magellan Internet Guide.

Posted July, 1996.
© Copyright 1996 OBS