This is an archive page !!!
---
Cooked to Order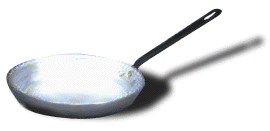 Have you managed to get beyond the idea of the thing and learn to love frog legs? Are you willing to give it a try?
Hey, have we got a recipe for you. In fact, we have two. Heat up your stove, oil down your skillet, and go to.
Frog Legs in Sauce Picante is a Cajun recipe that will make your mouth -- and probably your eyes -- water.
Mousseline of Frog Legs with Fresh Pasta sounds kinda French, kinda Italian, and very nouvelle.
We found these recipes at one of our favorite Web sites, SOAR, which stands for Searchable Online Archive of Recipes. It's a 4-star Magellan site where you'll find more recipes than you'll ever have time to cook.
More Delectables
You can find additional recipe sites, as well as restaurant listings, in the McKinley Internet Yellow Pages and the McKinley Magellan Internet Guide. Try it -- you'll like it.
Posted July, 1996.
© Copyright 1996 OBS