This is an archive page !!!
---
Time Warner Quick Reads Entertainment Library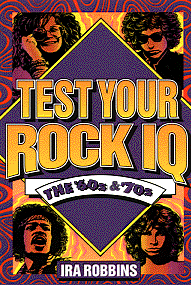 Test Your Rock IQ: The 60s and 70s
By Ira Robbins
Remember all those years when you were supposed to be learning math, science, English, and history? Test Your Rock IQ: The 60s and 70s lets you put your years of useless knowledge to good effect at last. With quizzes ranging from basic knowledge to head-banging stumpers, it takes you into every corner - acid rock, folk rock, Beatlemania, the San Francisco sound, Woodstock, bubblegum, deep soul - of rock's most glorious decade and on a wonderful ride through the wild extravagances and hard rock, disco, funk, new wave, and punk of rock's lost decade.
---
How to Purchase Time Warner Quick Reads
Purchase this Time Warner Quick Read: $11.95 ISBN: 1-57304-243-9
---
Internet Links to Music of the 60s and 70s:
Oldies Calendar
Births, deaths and events this week in Rock 'N Roll history, created and maintained by Ron Smith. For another trivia fix, also check out Ron's Number One Songs page, to find out the chart toppers in Chicago from this week during the '50s, '60s and '70s.
Question Time at The Rolling Stones Web Site
A batch of previously unanswerable Stones trivia queries from fan email, answered here by a *very* primary source! The Official Stones Web Server, with the latest and info on their current Voodoo Lounge tour, also includes RealAudio and QuickTime video clips.
Elvis Home Page
Plenty of trivia fuel (such as a copy of his will), maintained by a fan, that also presents an excellent case-study in the issues and intricacies of copyright.
The Internet Beatles Album
A collection of Beatles-related information including sound and picture files for behind-the-scenes details of Beatlemania.
Doug's Disco Jukebox Audio Files
Audio files of some all-time classic dance hits of the 1970's. Each is annotated with title, artist name, running time, and size.
The Punk Page
A large collection of pictures, sounds, groups, and lyrics from both the old and new schools of punk.
Were You at Woodstock '69?
Messages from particpants in the Well's Woodstock Conference.
WZLX Trivia
A 20-question quiz per month (with instant answers), offered by the classic rock radio station in Boston, Massachusetts.
Entertainment Library Internet Links
---
Copyright © 1995 Time Inc. All rights reserved. If you have any comments or suggestions, please e-mail them to twep-webmaster@www.timeinc.com