This is an archive page !!!
---
Download the FREE Time Warner Quick Reads SAMPLER for Windows
Time Warner Quick Reads Cookbook Library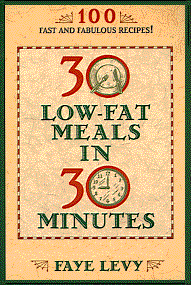 30 Low-Fat Meals In 30 Minutes
By Faye Levy

Award-winning cookbook author Faye Levy presents a health-conscious cookbook with 100 recipes for a month's worth of dinners, perfect for busy people who have little time to cook but realize cooking at home can be the key to a healthful diet. This cookbook proves that you can prepare quick meals that are low in fat and still taste great. The recipes make use of bold seasonings that instantly add flavor without the need for long simmering.

The book is organized around main courses, with chapters broken down into menus with poultry or meat, menus with fish or seafood, vegetarian menus and pasta menus. In addition, the cookbook offers strategies for quick, low-fat cooking, including tips on picking fresh ingredients, stocking a pantry and cooking techniques.
---
How to Purchase Time Warner Quick Reads
Purchase this Time Warner Quick Read: $11.95 ISBN: 1-57304-195-5
---
Internet Links to Low-Fat Recipes:
Veggies Unite
This "Searchable Vegetarian Cookbook" includes a well-indexed hotlist of Inernet sites for Health, Medical, and Nutrition information.
The Recipes Folder at the English Server
Includes Carnegie Melon's own archive of vegitarian recipes, along with indexes for the Fatfree Mailing List archives, rec.food.recipes archives, and more.
Cookbook on Friends & Partners Site
Politics are put aside to promote cultural understanding between Russian and American citizens, in this case, through their stomachs. Their collection of Russian, American, and International recipes includes a search engine and a form to add your favorite, along with many links to other cookbook and food-related sites.
The eGG
Although calories aren't always counted here, The Electronic Gourmet Guide is a snazzy internet e-zine devoted to food and cooking.
Cookbook Library Internet Links
---
Copyright © 1995 Time Inc. All rights reserved. If you have any comments or suggestions, please e-mail them to twep-webmaster@www.timeinc.com