This is an archive page !!!
---
Download the FREE Time Warner Quick Reads SAMPLER for Windows
Time Warner Quick Reads Cookbook Library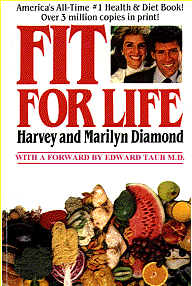 Fit For Life
By Harvey and Marilyn Diamond
The #1 New York Times bestseller-over one year on the New York Times bestseller list! It's the program that shatters all the myths: FIT FOR LIFE, the international bestseller that explains how to change both your figure and your life. Nutrition specialists Harvey and Marilyn Diamond explain how you can eat more kinds of foods than you ever ate before without counting calories...and still lose weight! The natural body cycle, permanent weight-loss plan proves it's not only what you eat, but also when and how. FIT FOR LIFE is the perfect solution for those who want to look and feel their best. Join the celebrities and the millions of Americans who are FIT FOR LIFE and begin your transformation today with:
THE VITAL PRINCIPLES that bring you permanent weight loss and high energy

THE FIT FOR LIFE SECRETS OF TIMING AND FOOD COMBINING that work with your natural body cycles

THE FIT FOR LIFE 4-week meal plan, menus, recipes, shopping tips, exercises, and more!
---
How to Purchase Time Warner Quick Reads
Purchase this Time Warner Quick Read: $11.95 ISBN: 1-57304-197-1
---
Internet Links to Fitness Information:
The misc.fitness FAQ
Fitness questions, answers, and information grouped into five parts: FAQs, exercise equipment, exercises, a recommended reading list, and a glossary of fitness terms.
Balance
A monthly lifestyle magazine focusing on fitness and health, with back issues available for reading as well.
Veggies Unite
This "Searchable Vegetarian Cookbook" includes a well-indexed hotlist of Inernet sites for Health, Medical, and Nutrition information.
Internet Access For The Portly
For a little lighthearted (and graphic intensive!) relief from the heavy burden of dieting, visit Fat Mike's pages, which invites visitors to "enjoy the tasty treat of fatty delight"!
Cookbook Library Internet Links
---
Copyright © 1995 Time Inc. All rights reserved. If you have any comments or suggestions, please e-mail them to twep-webmaster@www.timeinc.com