This is an archive page !!!
---
Time Warner Quick Reads Business Library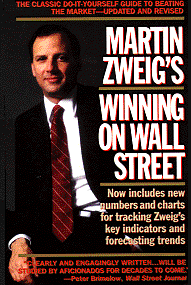 Martin Zweig's Winning on Wall Street
By Martin Zweig
The classic do-it-yourself guide to beating the market - updated and revised - from America's #1 stock market forecaster. Martin Zweig is the chairman of The Zweig Fund and The Zweig Total Return Fund, the publisher of the influential, trend-spotting Zweig Forecast, the financial strategist with over $7 billion under management, and the market analyst who has been called "the hottest, most respected stock picker in the land." Now, in this new edition, Zweig adds the latest numbers to his classic investment primer, evaluates their impact on the volatile, challenging market of the 1990's, and shows you how to use his proven strategies to:
Make informed decisions with Zweig's simple "Super Model"
Pick the winners with Zweig's "rifle" and "shotgun" approaches
Recognize when insiders are trading - and beat them at their own game
Spot major trends early - before the rest of the market
Minimize risk and maximize profits - with the same system used by major financial concerns.
---
How to Purchase Time Warner Quick Reads
Purchase this Time Warner Quick Read: $11.95 ISBN: 1-57304-192-0
---
Internet Links to Winning and Wall Street:
Bartleby, the Scrivener
A story of Wall-street by Herman Melville.
Wall-Street-News
WSTN, The Internet Broadcasting Super-Station offers reports and forecasts on financial markets, business, investments, and the economy.
Wall Street Direct
Resources for individual investors and traders.
A Brief Guide to Closed-End Funds
Covers the different types, net asset value, market price, discount/premium, and how to invest.
Business Library Internet Links
---
Copyright © 1995 Time Inc. All rights reserved. If you have any comments or suggestions, please e-mail them to twep-webmaster@www.timeinc.com