This is an archive page !!!
---
Time Warner Quick Reads Business Library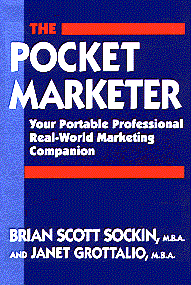 The Pocket Marketer
By Brian Scott Sockin and Janet Grottalio
The only hands-on marketing guide designed to put the information you need at your fingertips. THE POCKET MARKETER makes you an instant generalist, giving you mastery over:
All the basic principles, techniques, and tools of marketing and how they work in the real world, for each marketing discipline.
The terminology and jargon for each marketing field.
The marketing planning process and how to build an effective strategy.
State-of-the-art charts and forms to help you organize and streamline your job.
THE POCKET MARKETER is the perfect tool for every business and every business person.
---
How to Purchase Time Warner Quick Reads
Purchase this Time Warner Quick Read: $11.95 ISBN: 1-57304-181-5
---
Internet Links to Marketing:
Marketing Online
A new OBS online release of Marcia Yudkin's new book! This preview invites you to add your comments and stories to be included in the upcoming paper publication.
The Electronic Marketing Manual
Hands-on information about technologies and techniques from the book by direct mail pioneer Cecil C. Hoge, Sr. See also The Hoge Collection of his articles.
GVU's 2nd WWW User Surveys
Extensive information from the Graphic, Visualization, & Usability Center's four surveys on general demographics, WWW browser usage, authoring information, and consumers.
Internet Business Statistics
Internet demographics, size, growth, and market segments, assembled by the Internet Business Center.
Business Library Internet Links
---
Copyright © 1995 Time Inc. All rights reserved. If you have any comments or suggestions, please e-mail them to twep-webmaster@www.timeinc.com