This is an archive page !!!
---
Time Warner Quick Reads Business Library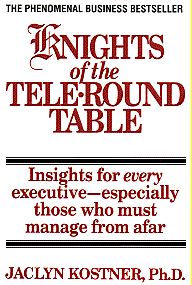 Knights of the Tele-Round Table
By Jaclyn Kostner, Ph.D.
Written as an entertaining yet insightful business novel, KNIGHTS OF THE TELE-ROUND TABLE shows you how to successfully meet today's greatest business challenge: getting results when your team is distant from you and from each other. Now everyone can benefit from ideas that are influencing the way that people are managing across the nation... and across the globe.
You'll learn:
How to overcome your three worst enemies - geography, isolation, and history
How to build your leadership powerbase by accessing the power each "knight" already has
How to establish trust and unite people who don't share a common work space
How to leverage resources across distance
How to use technology to bridge your team's physical - and emotional - distances.
---
How to Purchase Time Warner Quick Reads
Purchase this Time Warner Quick Read: $11.95 ISBN: 1-57304-182-3

---
Internet Links to Telecommuting & Employee Relations:
Communicationg with People
Chapter 3 of the bestselling The Internet Companion, 2nd. ed. by Tracy LaQuey.
Foundation for Enterprise Development
Practical information on developing a productive business based on the stragegy of creating solid employer-employee relationships.
No Place Like Home
An article on telecommuting from In Perspective, the WilTel magazine that explores a broad range of telecommunications issues.
Telecommuting
John Eleman, co-host of the Pacific Rim Conference at the Well, shares his thoughts on this subject.
Business Library Internet Links
---
Copyright © 1995 Time Inc. All rights reserved. If you have any comments or suggestions, please e-mail them to twep-webmaster@www.timeinc.com