This is an archive page !!!
---
Time Warner Quick Reads Business Library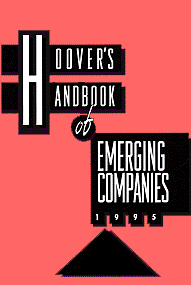 Hoover's Handbook of Emerging Companies 1995
Provides profiles on 250 companies including well known, high profile-leaders in their fields, plus smaller lesser-known companies with the potential for explosive growth. Each profile includes:
Company strategies, operations and overview, and up to 6 years of key financial data
Advertising and R&D expenditures, and lists of products and brand names
Executives' names, titles ages, and pay
Headquarters addresses and phone and fax numbers
This invaluable resource for business executives, investors, salespersons, career changers, students, and anyone with a need to know about these dynamic and rapidly growing companies.
---
How to Purchase Time Warner Quick Reads
Purchase this Time Warner Quick Read: $ 24.95 ISBN: 1-57304-200-5
---
Internet Links to Emerging Business Information:
Foundation for Enterprise Development
Practical information and assistance on developing a productive business based on meaningfully involving employees in the company as an effective way to motivate and achieve many business goals.
Emerging Business NetCenter
Articles, papers, and services from NetMarquee for emerging businesses.
Nijenrode Business Resources: Table of Contents
Designed at Nijenrode University for their students, faculty, and researchers, this site with over 500 links is also a valuable resource for any member of the business community.
Business Library Internet Links
---
Copyright © 1995 Time Inc. All rights reserved. If you have any comments or suggestions, please e-mail them to twep-webmaster@www.timeinc.com