This is an archive page !!!
---
Time Warner Quick Reads Business Library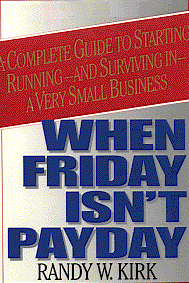 When Friday Isn't Payday:
A Complete Guide To Starting, Running, And Surviving In A Very Small Business
By Randy W. Kirk
The only book of its kind ever published tells you, step by step, how to start your own very small business and keep it running profitably, through the good times and the tough times. Written by a successful businessman and national lecturer, WHEN FRIDAY ISN'T PAYDAY:
Helps you answer that all-important question - Do I have what it takes to succeed in my own business?
Clarifies the issues of partnership and involving family members
Steers you toward the right location - and tells you how much it will cost to open the doors
Provides detailed, time-tested strategies for selecting vendors, selling, collecting, planning, goal setting, brainstorming, and problem solving
Gives invaluable guidance on hiring, firing, training, and motivating employees
Offers special in-depth sections on advertising, promotion, marketing, and trade shows
---
How to Purchase Time Warner Quick Reads
Purchase this Time Warner Quick Read: $11.95 ISBN: 1-57304-186-6
---
Internet Links to Small Business Information:
Khera Communications' Business Resource Center
Formerly the Small Business Help Center, this site was created to help businesses get useful information to help them grow.
NetMarquee: A Business Information Resource
Articles, papers, and services for small and medium-sized businesses, with separate emphasis on family businesses and emerging businesses.
Nolo's Fast Facts: Debt Collectors
By the Editors of Nolo Press, six frequently asked questions and answers.
SBA: Starting Your Business
SBA: Financing Your Business
A starting point to locate the Small Business Administration resources in your area of the USA, and information about securing capital, loan guarantees, and specialized financing.
Business Library Internet Links
---
Copyright © 1995 Time Inc. All rights reserved. If you have any comments or suggestions, please e-mail them to twep-webmaster@www.timeinc.com