This is an archive page !!!
---
Time Warner Quick Reads Business Library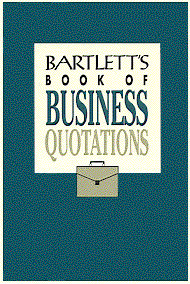 Bartlett's Book of Business Quotations
More than 1,000 of the most memorable, pithy, and thought-provoking sayings on business, work and management selected from Bartlett's Familiar Quotations. The unrivaled historical breadth and depth of its quotations has always been a Bartlett's distinction, and Bartlett's Book Of Business Quotations continues this tradition. Complementing and enhancing quotations from classical sources are those from some of the great thinkers and leading personalities of the twentieth century. The chapter on management, for example, includes provocative and entertaining quotes suggesting innovative ways that managers can define their roles, with Henry Kissinger, Samuel Goldwyn, Simone de Beauvoir, W.H. Auden and Samuel Beckett making us realize that, in truth, we are all managers.
---
How to Purchase Time Warner Quick Reads
Purchase this Time Warner Quick Read: $11.95 ISBN: 1-57304-241-2
---
Internet Links to Quotations:
Bartlett's Familiar Quotations (9th edition, 1901)
For quotes from your other favorite subjects, time periods, or authors, Columbia University's publication includes an engine for key-word searching.
Bartlett's Familiar Shakespearean Quotations
Part of MIT's classic collection, this index arranged by play allows you to browse the best from the Bard.
Business Library Internet Links
---
Copyright © 1995 Time Inc. All rights reserved. If you have any comments or suggestions, please e-mail them to twep-webmaster@www.timeinc.com