This is an archive page !!!
---
Time Warner Quick Reads Business Library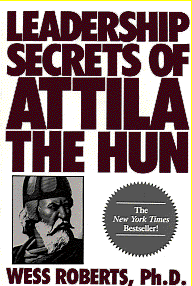 Leadership Secrets of Attila the Hun
By Wess Roberts, Ph.D.
The New York Times bestseller! This is the book that you've heard about. The book that leaped to the top ranks of the bestseller lists. The book that's got the business world reading, thinking and quoting. This is the book that reveals the leadership secrets of Attila the Hun - the man who centuries ago shaped an aimless band of mercenary tribal nomads into the undisputed rulers of the ancient world, and who today offers us timeless lessons in win-directed, take charge management.
"A great book... The principles are timeless." H. Ross Perot
---
How to Purchase Time Warner Quick Reads
Purchase this Time Warner Quick Read: $11.95 ISBN: 1-57304-183-1
---
Internet Links to Leadership & Attila:
Attila the Hun and the Battle of Chalon
A draft of an article by Arther Ferrill, published in The Quarterly Journal of Military History about Attila's activities in Europe.
The Seven Habits of Highly Effective People
The infamous list from the bestselling book by Dr. Stephen R. Covey (HINT: travel with your images off for easier reading; experiments with wallpaper at this site have muddied the fine text!)
United We Stand
A free online ASCII version of H. Ross Perot's book, accessible by chapters.
Business Library Internet Links
---
Copyright © 1995 Time Inc. All rights reserved. If you have any comments or suggestions, please e-mail them to twep-webmaster@www.timeinc.com