This is an archive page !!!
---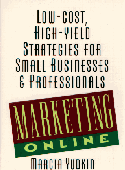 ---
Chapter 6
Schmoozing:
Making Connections Without Soliciting Business
by Marcia Yudkin
---
News Flash: SAVE YOUR TIME, SAVE YOUR MONEY
The forum is being flooded with messages and library submissions from people TRYING to use the forum to sell something or develop business. If this is your primary purpose in using the forum, save your time. Nineteen sets of eyes of forum staff members see your ads and remove them from view. Repeat offenders are subject to losing forum privileges.
-- Paul and Sarah Edwards, Forum Administrators (SysOps)
If you had entered the Working from Home forum on CompuServe on February 12, 1995, the notice above would have greeted you. (I condensed it slightly.) It reminds me of those signs, hand-lettered and askew, that a cartoon hero encounters at the foot of the long climb to the moated castle: "Turn back now!" Just as the intrepid hero gathers courage and proceeds, however, after reading this chapter you too will be equipped to safely forge on ahead. Armed with the knowledge of what will arouse the wrath of forum guardians, and what earns their blessing, you can blend right in with all the schmoozing and develop business.
Schmoozing Wins, Soliciting Loses
If the Yiddish word "schmooze" is foreign to you, don't worry. It denotes a cozy kind of conversation that people of any ethnic background or nationality can enter into and enjoy. Unlike some cold-blooded versions of networking that became popular in the late 1980s, its object is not collecting as many business cards or E-mail addresses as you can. Nor is electronic schmoozing aimed at making distant friends (though that often comes about as a byproduct). Rather, it's an interactive tool for building remote -- but otherwise real and beneficial -- business relationships.

I doubt very much the Edwardses will mind my explaining to you the spirit and mechanics of schmoozing, because for this method to prove rewarding, you must in your heart and soul actually value person-to-person business relationships -- which come pretty close to the official purpose of a forum like theirs. Phoniness eventually rings as hollow on a computer screen as it does in a used-car showroom. And you'll quickly get bored if you cynically go through the motions of schmoozing with your arm ready to stretch out and grab the golden ring. So I'm assuming that you want to meet people who share your business interests and are prepared to spend time at your computer participating in discussion. And after pondering Chapter 5, you have an idea of where you wish to fish and how you'd like to come across. You still need to understand how to avoid committing the grand transgression of soliciting, because it's very easy to step over barely visible, rarely pointed out lines without realizing it. Let's begin by looking at two clearly acceptable examples of schmoozing and two examples of soliciting that would be decidedly unacceptable in most online discussion areas.

Schmooze #1

To: all
From: Ron Tyler
Re: Etiquette?
Does anyone know the appropriate way to address a supreme court justice? Is it just "your honor" or something else? We got a reservation at my bed & breakfast inn from one, and I don't want to make a fool of myself! Thanks, Ron.

Schmooze #2

To: Geri Burkhardt
From: Bruce Han
Re: ADA
I disagree with what you wrote about the disabilities act being a terrible burden on small businesses. In my seventeen-person accounting firm, we installed a ramp before we ran public seminars in our conference room, and bought a TDD machine for an employee who lost his hearing suddenly. Total cost for both: $5,500. The former gives us community good will (and one or two extra registrations) when we write on our brochures and ads "Wheelchair accessible." And the latter saved us the cost of recruiting and training someone new. Bruce Han

Solicitation #1

To: all
From: Ron Tyler
Re: Vacation ideas
With the incredibly frigid weather in many parts of the country these days, your thoughts may be turning south. If so, there's no friendlier, more interesting destination in Florida than Key West, and no friendlier, more interesting place to stay there than the Buccaneer Bed & Breakfast. E-mail me for complete details on a special weekend package deal in Key West!

Solicitation #2

To: Geri Burkhardt
From: Bruce Han
Re: ADA
Geri: Did you know that the cost of compliance with the ADA is a legitimate business expense, and therefore fully deductible? Our full-service accounting firm specializes in helping small businesses like yours keep your hard-earned profits legally out of the hands of Uncle Sam. We're friendly, experienced and affordable. Let me know if you'd like to set up a no-obligation appointment.

Did you notice significant differences? Schmoozing is purposeful chitchat likely to be of interest to others, while solicitation involves a blatant invitation to do business. Schmooze #1 consists of one of the most common forms of appropriate discussion, a business-related question. Note, though, that Ron's question sets his business in a highly favorable light likely to make others curious to know more. If a curious someone does ask, "Where are you located?" and then, "Geez, Key West -- I was thinking of going there in April. Tell me about your B&B," he's allowed to present the selling points of his business to his heart's content. Schmooze #2 consists of another common form of participation -- contributing views on an issue. Here Bruce responded substantively to a comment by Geri and subtly injected the description, "my seventeen-person accounting firm." Over time if Bruce continues to post reasoned, socially enlighted arguments and experiences linked to his name and a phrase like "my seventeen-person accounting firm," regulars needing accounting services are going to turn to him.

Solicitation #1, addressed to "all," has no purpose or context other than conveying Ron's marketing information. It also has no discussion value or informative content -- you wouldn't learn anything by reading it. Note too that it ends, like any good advertisement or direct-mail piece, with a call to action. Although schmoozy in tone, it comes across unmistakably as a sales pitch. It would therefore be removed from or provoke criticism in every area that enforces a "No commercials" rule. Solicitation #2 reminds me of classic ambulance chasing -- as in lawyers going to the funerals of accident victims and tucking their business cards in the suit pockets of the family members. Here Bruce joins an ongoing discussion but instead of furthering the interchange, he injects his selling agenda where it's beside the point. As in solicitation #1, Bruce recites his selling points and concludes with an invitation to call him. In addition, several phrases crop up in his note that one rarely encounters outside of marketing pieces, such as "small businesses like yours," "hard-earned profits," "the hands of Uncle Sam," "affordable," and "no-obligation appointment." Bruce does offer some helpful information about the deductibility of ADA compliance expenses, but he then switches unnecessarily to selling mode.

"People who haven't been working for themselves don't know that there's any other way to market besides advertising," says Alice Bredin, who has been a home business expert on Prodigy and writes a column on home business forNewsday. "Marketing means setting up a billboard somewhere by running big ads on radio, TV, or in a magazine, and if you can't afford that, well, at least on online services you can slap your message up in front of people's eyes and they are going to buy from you. Actually, the reverse is true. Being online is like being at a party, and the other people there aren't likely to buy from you if you just come up and tell them what you do. But after you talk a while about where you're from, ask them about their business, you exchange information, maybe then you've made a business connection." It's foolish to think that one note you wrote in half an hour is going to perform magic for you, says Bredin. "Instead, when someone posts a note, take off your salesperson's hat, or at least tilt it to the side, and give that person some help. Get a little relationship going, and they'll get a trial run with you that might get them wanting more."

If I've convinced you of the value of sticking to schmoozing and avoiding flagrant selling, here are some guidelines for promoting yourself unobtrusively and staying out of trouble:
DO ask questions that enable you to describe what you do. It's fine not to know everything. Just make sure your questions aren't too elementary and don't cast doubt on your ethics. Investment banker Fred Richards says he sometimes sees questions "so basic that it's obvious the person asking has no experience whatsoever, like 'Is it cheaper to send things by mail or by UPS?' Just call and ask!" Another time, someone in mail order was asking about having to pay sales tax to other states, "Can I get around this?" Richards remembers giving this person a stern warning about the consequences of not going by the book.

DO answer questions from others you're qualified to address. Even when the topic isn't smack on target with your service or product, your reputation with the group rises whenever you demonstrate that you know your stuff. Generosity makes a good impression too. Paradoxically, in this medium, selfless sharing of information sells.

DO contribute to discussions that put you or your business in a favorable light. Taking a strong stand is fine so long as you can back up your position with facts or experiences and stay in control of your responses.

DO be constructive in tone. Avoid sarcasm, put-downs and personal attacks -- even if someone throws verbal digs your way. See Chapter 19 on ways to avoid reputation-damaging conflagrations.

DO stay focused on the announced topic. "Nothing is more irritating than to go into a thread marked 'FREELANCE WRITERS NEEDED' and find a discussion about restaurants in Omaha," says CompuServe member Kathy Sena, who adds that the problem has a name: "thread corruption."

DO offer valuable information. Ron could have turned his "Vacation ideas" solicitation into a solid discussion starter by continuing after "there's no friendlier, more interesting destination in Florida than Key West" with a description of its attractions: the Hemingway connection, its typical February temperatures, the tolerant lifestyle, its accessibility by car and air, etcetera. By setting himself up as someone knowledgeable about Key West, he's more likely to make a memorable impression in this medium than by pushing his B&B directly.

DO slip in off-hand curiosity provokers. One of my first posts on Prodigy succeeded in this category when I posted a message that mentioned the fact that my book Smart Speaking was going to be featured on the Oprah Winfrey show that Wednesday. Barb Tomlin, president of Westward Connections in Albuquerque, New Mexico, and at that time Board Leader of the Home Office Board, became curious enough to watch the show, ask me to tell her more about myself and then invite me to become a Special Contributor (see Chapter 12) on the topic of media and publishing.

DO balance getting with giving and showing off with humility. Although author Charlotte Libov spends a good deal of energy online sniffing out publicity opportunities, she says she deliberately tries to give back as much help as she's received. "I share my contacts with people who have similar interests, and I take part in non-promotional discussions," she says. "If I feel I've been promoting myself a lot lately, I'll hold back, or approach someone privately, by E-mail."

DO check messages frequently. Glassblower Strat McCloskey of Newcastle, Delaware, got the opportunity to present a seminar when someone else couldn't make it at the last minute because he was the first out of 50 people to respond to the online appeal for a replacement.

DON'T expect results from vague questions or answers. "Nobody is going to respond helpfully to a question like, 'I need some help with taxes.' It looks lazy, as if you haven't put any energy into it yet at all," says Alice Bredin. "But if you make your question more specific -- as specific as you can -- people will respect that and put energy back toward you." Likewise, the more exam ples and details you can offer as advice, the more you showcase your expertise.

DON'T use all capital letters, even in your headline. Online, people consider that over-excited, the equivalent of shouting, and it makes them want to cover their ears -- oops, their eyes. An extended patch of upper-case letters also slows down reading.

DON'T irritate discussion participants with gratuitous exclamation marks, empty superlatives, self-serving exaggerations, unsubstantiated boasts and other symptoms of hype, such as words like "amazing," "revolutionary," "breakthrough," "unique," "fabulous" or "extraordinary." Avoid any sort of promise or offer, so that you keep a safe distance from the verboten territory of advertising.

DON'T post the same message repeatedly. Charlotte Libov recalls getting her knuckles rapped when she posted announcements about the appearance in paperback of her book, The Woman's Heart Book, in several sections of the same forum. The forum guardian objected not to the content of the message, but to its repetition. While Libov is correct that some people have automated software set up so that they read only certain sections, it is also true that some folks would encounter her note over and over. A solution: stagger the timing of multiple posts and vary the wording appropriately for each site.

DON'T carry out "bombing runs." Several CompuServe veterans used some variation on this term to denote the practice of scattering one message almost indiscriminately throughout the service and then ending with, "If you want to know more, please E-mail me rather than reply here." The impersonality implied in your scatterfire is offensive enough. It's also insulting to the regulars to say you're too busy or not interested enough to hang around their neighborhood for responses.

DON'T expect instant results. "I've seen people come on a board, introduce themselves as a hot shot and two weeks later they're gone. A week after that someone has a question for them, and they're not there," says Peggie Hall, owner of Peal Products in Atlanta, which sells marine sanitation products. "After I first went on the Sailing Forum on CompuServe, introduced myself and started answering questions, it was three or four months before someone requested a catalog. In a year, though, we've done more than enough business to justify the expense of being online."

DON'T mention fees or prices unless you are asked. Even then, you might be better off providing them privately. A reasonable rule of thumb: If you don't normally include fees or prices in ads or a brochure, don't quote them publicly even when you're asked. One exception I can think of is a response to a discussion concerning prices. For example, no one will object if someone has asked, "Anyone know where I can get quality bulk 3-1/2" disks for less than 50 cents each?" and you respond, "We sell name-brand disks, guaranteed, in lots of 100 for 32 cents each."

DON'T ask for the order. Lawrence Seldin, author/publisher of Power Tips for the Apple Newton, got reprimanded several places online for using the words, "to order..." Complaints vanished when he said, "for more information, please contact me by E-mail." Instead of asking for the order, slip in some information that would catch the interest of someone in your target market, and let them approach you if they wish more information. If Ron Tyler added just a little to Schmooze #1 above as follows, he'd probably inspire someone to respond, "You're in Key West? We were just talking the other day about going there. Can you send me a brochure?"
Does anyone know the appropriate way to address a supreme court justice? Is it just "your honor" or something else? We got a reservation at my bed & breakfast inn from one, and I don't want to make a fool of myself out here on the sands of Key West! Thanks...

Ron Tyler, owner, Buccaneer Bed & Breakfast

Finally, accept the fact that what gets perceived as a solicitation will vary from group to group. In borderline cases, the overall spirit of a note may determine whether it attracts criticism or not. For instance, in the following message Perry Smit let readers know that he's available to be hired, but he did it in such a charming way, tucked into an irresistibly friendly invitation, that none of the patrol officers on CompuServe pulled him over for it.
I Love My Amsterdam
Hello everybody,

I have seen a lot of cities: Sydney, Paris, Munchen, Brussels, Antwerpen, Frankfurt, etc. Beautiful cities but you never feel what you feel when you are in Amsterdam.

From the smell of the dogshit to the smell of the Heineken bier coming out of the cafes, it really got something.

From busy businesspeople to the junks on the street. In one day you can see all kind of people from all over the world.

From the jingle bells of the trams to the chattering of people on the leidseplein. When you have never heard that noise, then you never been really in Amsterdam.

Amsterdam, you have to feel it.

When you have plans to come over, then let me know. If it is for business I can bring you in contact with the right prospect that you are looking for. When you want to come for a visit then let me know and I tell you more nice things that you have to see, hear, smell and to feel.

What are the nice things that I have to see, hear, smell and to feel when I come in your city?

Kind regards,

Perry Smit
International Business Services (Holland, Amsterdam)

Two hot prospects, planning a trip to Holland, responded, along with three people wishing to set up a similar service in their city and three people sending back humorous portraits of their beloved home town, Smit told me. I wasn't surprised.

[Back] [Home] [Forward] [Discussion Forum]

---
Copyright © 1995 Penguin USA. All rights reserved. If you have any comments or suggestions, please e-mail them to crucible@penguin.com