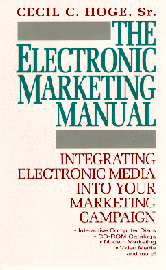 Return to previous document
---
The Electronic Marketing Manual
by Cecil C. Hoge, Sr.
(McGraw-Hill, 1994)
ISBN 0-07-029365-1
Integrating Electronic Media Into Your Marketing Campaign
Interactive Computer Disks

CD-ROM Catalogs

Modem Marketing

Video Media and more!
Whatever your marketing and promotional needs--here's all the hands-on information for profiting from today's most promising electronic marketing technologies and techniques.
Can you use powerful new electronic marketing techniques that help you reach any ethnic, professional, business or special market ... create an instant profit center with product or service information ... develop instant, low-cost market research ... and electronically service your customers and sales force?
Of course you can. The Electronic Marketing Manual opens the door to more than 20 cutting-edge electronic media technologies that dramatically enhance product awareness, boost sales, and slash costs.
Complete with candid interviews with the nation's leading electronic marketing pros, this media-by-media guide shows what you can and cannot accomplish with each product, answers common start-up questions and more sophisticated queries, and points out pitfalls to avoid.
The Electronic Marketing Manual opens the door to this decade's most powerful, must-know electronic media. Whether you're a consumer or business marketer--in the manufacturing, retailing, or service sector--you'll find the immediate, hands-on information you need to select and customize the best electronic media product(s) for all your sales and marketing needs.
This comprehensive media-by-media guide begins with such standard electronic media as TV, radio, and telephones, then moves on to cover the cutting-edge electronic technologies you need to know about today: CD-ROM catalogs, video catalogs and brochures, fax marketing, computer bulletin boards, interactive computer discs, direct-by-satellite business TV marketing, high-tech kiosks, audio- and video- conferencing, electronic vending machines, and many more.
Now you can swiftly determine which specific electronic media form(s) are best suited to communicating the virtues of your product or service. You'll take advantage of the best methods for producing high-impact electronic results, effectively track and analyze your electronic campaigns, then integrate and enhance these efforts with other promotional strategies to build a continuous wave of consumer awareness and demand.
The Electronic Marketing Manual is also packed with provocative insights gleaned from electronic marketing and media pros, from Fortune 500 marketers and national franchises and retail chains to smaller, local firms across America. You'll avoid technology risk and costly, time-consuming errors by knowing firsthand which electronic media products and techniques have worked in their companies, and why, and which ones have failed. And your information search is further aided by end-of-chapter source guides that steer you to electronic media hardware and software suppliers and producers, as well as important associations, directories, and publications.
Discover how to maximize powerful electronic media technologies and marketing techniques by:
Understanding the marketing future of today's and tomorrow's most promising electronic media
Deciding whether to use outside specialists and services or buy equipment and develop in-house expertise
Testing and meticulously measuring the success and profitability of your electronic marketing campaigns
Creating instant product or service impact and interaction on a global scale
Responding swiftly to surges in product or service demand, and turning customer complaints into profits.
A quick glance at the dramatically changing marketing environment shows that, today, there is no service offered, no product made, imported, or sold that isn't deeply affected by electronic marketing. This clear and comprehensive manual gives you the cutting edge tools and techniques for exploiting the power and promise of electronic media to enhance product awareness, boost sales, and slash costs.