This is an archive page !!!
---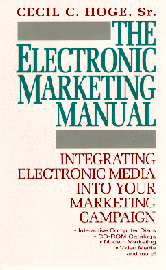 Return to previous document
---
The Electronic Marketing Manual
by Cecil C. Hoge, Sr.
About the Author
Cecil C. Hoge, Sr. is widely hailed as one of the nation's direct mail pioneers and marketing innovators. He is president of Harrison-Hoge Industries, a Port Jefferson, New York-based marketing firm, where his day-to-day responsibilities keep him at the cutting edge of all the latest electronic marketing techniques. He is the best-selling author of _Mail Order Moonlighting_, which has sold more than 100,000 copies.