This is an archive page !!!
---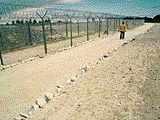 Nelson Mandela's Long Walk to Freedom began as scraps of paper, buried under the floor of his prison cell. He was incarcerated in South Africa for more than a quarter of a century, part of that time in the prison of Robben Island, about which he writes:

"Its isolation made it not simply another prison, but a world of its own, far removed from the one we had come from. The high spirits with which we had left Pretoria had been snuffed out by its stern atmosphere; we were face to face with the realization that our life would be unredeemably grim. In Pretoria, we felt connected to our supporters and our families; on the island, we felt cut off, and indeed we were. We had the consolation of being with each other, but that was the only consolation."
Now Nelson Mandela, joint winner of the 1993 Nobel Peace Prize with Fredrik Willem DeKlerk, is President of South Africa, a free and multiracial democracy. And now, those bits of paper, his once confiscated and forbidden manuscript, have been transformed into digital bits for all to freely read and access on the global Internet. The online continuation of the Long Walk to Freedom has begun.
Itself an evolving and democratic communications medium, the Internet offers millions of citizens worldwide the opportunity to read about, and participate in, Mandela's Long Walk to Freedom. By including an "External Link Set" which joins to the book's files many related resources elsewhere on the Internet--relevant texts, maps, pictures, people, and sites--we have taken the first steps towards an online continuation of Mandela's Long Walk To Freedom. In creating this first living and expandable digital context for Mandela's work, we invite Internauts everywhere to contribute to this effort by reading Mandela's book and suggesting new links, to take new steps on the digital highway towards making freedom live online.
To add your links to this ongoing version of Mandela's Long Walk to Freedom, please send to mandela@obs-us.com. Identify either the specific excerpts from this online version to which you suggest adding an external link, or identify the page and paragraph numbers from the printed version of Nelson Mandela's Long Walk to Freedom, along with related URLs appropriate to the excerpt you choose. On behalf of digital seekers everywhere, thank you for participating.
"I have walked that long road to freedom. I have tried not to falter; I have made missteps along the way. But I have discovered the secret that after climbing a great hill, one only finds that there are many more hills to climb. I have taken a moment here to rest, to steal a view of the glorious vista that surrounds me, to look back on the distance I have come. But I can rest only for a moment, for with freedom comes responsibilities, and I dare not linger, for my long walk is not yet ended."
Forward to Online Selections from Long Walk To Freedom
Reader's Comments about Long Walk to Freedom
---
---
Copyright 1994 Time Inc. All rights reserved.

This document was last modified on December 3, 1996.

If you have any comments or suggestions, please e-mail them to mandela@obs-us.com .