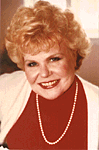 Joyce Lain Kennedy is the nation's foremost careers columnist. Known for her intense research and employment trend analyses, Kennedy's nationally syndicated careers column (Los Angeles Times Syndicate) appears in more than 100 daily newspapers, including the St. Louis Post Dispatch, Cleveland Plain Dealer, Seattle Times and the Atlanta Journal and Constitution.
Kennedy, a veteran journalist with over 25 years experience, began her writing career in 1968 dispensing advice to teens and young adults. In 1973 Kennedy moved to Sun Features, where she continued writing her "Careers" column as well as several informational booklets, such as "The College Financial Aid Emergency Kit" and "Resumes: The Nitty Gritty." In 1989 Kennedy joined the Los Angeles Times Syndicate. She wrote the best-selling Joyce Lain Kennedy's Career Book in 1992.
Kennedy earned her business administration degree from Washington University. She is a former resident of St. Louis, Washington, D.C. and New York City. Currently she works and lives in San Diego.

---